Today I am going to propose a vegan recipe super simple to prepare, and that will surprise you. These are tofu sticks baked and flavored with pepper and fresh thyme.
This recipe came to me one day when I bought a kilo of tofu, and I did not know what to do with it. So I prepared a few different recipes, such as the raw vegan chocolate mousse, the Oriental shirataki, the raw vegan unicorn mousse and these delicious tofu sticks. The result was great.
I hope you like it!
New FMD recipes every week

All my recipes are suitable for FMD!
Palitos de tofu al aroma de tomillo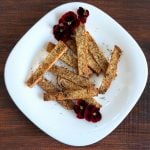 Print This
Ingredients
170 gr. of tofu

Fresh thyme

Black pepper

Salt
Instructions
Freeze the tofu for 8 hours or the night before
Preheat the oven to at 350º F (180º C)
Let the tofu unfreeze and cut into sticks about one centimeter thick
Put the sticks on kitchen paper and put salt on them
Let stand for a couple of minutes and then with another piece of kitchen paper dry the sticks as much as possible
Tofu, after being unfrozen will lose a lot of water. It has to lose all water possible
Sprinkle the sticks with the black pepper and fresh thyme and arrange them on a baking sheet lined with baking parchment
Bake for 25 minutes or until completely crispy and golden
This recipe is compatible with the Fast Metabolism Diet – FMD Phase 2 ONLY for vegans; With these quantities, you get two snacks for >20 pounds or 1 breakfast for >20 pounds. For a complete breakfast add phase vegetables.