Personally, I am a very fan of Asian cuisine, among my favorites are Japanese, Vietnamese and Thai cuisine, although so far everything I have tried has enchanted me. For this reason, I have decided to propose this recipe, which is very easy to prepare and has a lovely oriental aroma. In addition, I present 2 versions: the vegan version with tofu and the non-vegan version with chicken, so that everyone can prepare it.
New FMD recipes every week

All my recipes are suitable for FMD!
Shiritaki al estilo oriental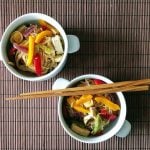 Print This
Ingredients
150 gr of shiritaki* drained

50 gr tofu or 50 gr of chicken breast

1½ cup red, yellow and green peppers

1/2 red onion

1 leek

1 clove garlic

1 piece of ginger 2 cm

½ cup vegetable broth or water

1 tablespoon of tamari sauce

1 tablespoon of vinegar

Salt
Instructions
Chop finely the garlic and the ginger and put it in a nonstick frying pan with the broth
Cut the onion, leek, and peppers into pieces, put in the pan and let cook 5 minutes over medium heat
Chop the tofu or the chicken and add it to the vegetables, cook 10 minutes more
Drain the shiritaki with plenty of cold water and add them to the vegetables
In a small bowl, mix the vinegar, the tamari sauce and a tablespoon of water, and add this sauce to the shiritaki
Adjust salt and cook for a few more minutes; Should not be too liquid, serve hot
This recipe is compatible with the Fast Metabolism Diet – FMD Phase 2; with these quantities, you use only 50 gr of protein, for a complete meal add the remaining proteins and phase veggies.
Notes
*They are also called Miracle Noodles or Konjac Noodels. - WARNING FOR CELIAC: always check that the products that you use are certified without gluten, for who has doubts in this respect can be informed in the following link: http://bit.ly/GlutenFreeSymbolologíaSinGluten