In a few days it is my aunt's birthday and I will organize a dinner; How she does not like the cakes too much I thought to experiment and to create some new sweet, something different. So today I propose a really original recipe and above all very fresh; It is a sweet pudding of cucumber and basil, prepared with egg whites and agar agar.
The preparation is really simple and the result surprising. In addition this recipe can be used both as breakfast, as dessert or as snack.
I wait for your opinions 😉
New FMD recipes every week

All my recipes are suitable for FMD!
Sweet pudding of cucumber and basil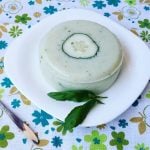 Print This
Ingredients
2 egg whites

1 cucumber

4 fresh basil leaves

2 tablespoons birch xylitol

1 tablespoon agar agar powder

1/2 cup water
Instructions
In a saucepan heat the water and add the xylitol
When the water is hot put the egg whites and stir constantly
After boiling the egg whites for a couple of minutes add the agar agar and continue stirring
Peel the comb, cut it and beat it in a blender with the basil, until it is a homogenous puree
When the water with the eg whites starts to boil, remove them from the fire and add it to the puree of cucumber; beat again
Pour the puree into a small mold (preferably an apertured mold such as those used for the cheescake); You can put a slice of cucumber in the bottom of the mold how to decorate
Leave the pudding in the refrigerator about 8 hours, or overnight
This recipe is compatible with the Fast Metabolism Diet – FMD Phase2; with these quantities, you get 2 full snacks for <20 or 1 full snack for >20.
This recipe can also be used in Phase 2 as breakfast, lunch or dinner, but you have to adjust the amounts or integrate with more vegetables and protein.