Spices are always the ideal way to bring aromas from other countries to our kitchen and make our recipes more exotic and original. For example, this dish has only a few ingredients, but a simple touch of yellow curry paste gives to it an exquisite Thai flavor. It is a straightforward recipe to elaborate and 100% vegan.
Perfect for lovers of tasty food!

New FMD recipes every week

All my recipes are suitable for FMD!
Yellow vegan curry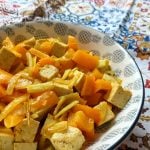 Print This
Ingredients
8 oz. of firm tofu

2 yellow peppers

1/2 onion

6 young garlic or 3 scallions

1 clove garlic

1 piece of ginger 2 cm

1 teaspoon yellow curry paste

1/2 - 1 cup of vegetable broth

Salt
Instructions
Peel the onion, the garlic, the garlic, and the ginger. Wash the peppers well.
Chop the clove of garlic and cut onion, garlic, and ginger in thin strips.
In a nonstick skillet, put the onion, garlic, garlic, and ginger and sauté with 4 or 5 tablespoons of broth. Simmer for 10 minutes, if necessary, add a little more broth.
Meanwhile, cut the peppers and tofu into similar sized pieces.
When the onion is transparent, add the curry paste, peppers, tofu and 4 or 5 tablespoons more broth and adjust salt.
Leave to cook for 20 more minutes over low heat. If necessary, add more broth.
This recipe is suitable for the Fast Metabolism Diet – FMD P2, ONLY for vegans or ovo-lacto vegetarians. With these quantities, you get 4 snacks protein serving for <20 pounds,  or 2 main meal protein serving for <20 pounds.
For this recipe, you may need: