These crackers are by far the best flourless crackers I have ever made. They are super crunchy, easy to make and so delicious. To make them you will only need a mix of seeds, salt and water. And if you want, you can spice them up adding your favorite spices.
These crackers are great for appetizers, meals and snacks, and are perfect with any sauce; try them with baba ganoush, beetroot sauce, and even cashew spread or almond butter. These crackers are also an easy snack to take to work, on a field trip, to the beach or wherever you want.
New FMD recipes every week

All my recipes are suitable for FMD!
Seed crackers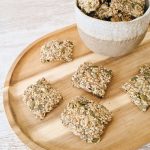 Print This
Ingredients
1/3 cup sunflower seeds

1/3 cup sesame seeds

1/3 cup ground flax seeds (you can grind it with the blender)

1/4 cup chia seeds

1/4 cup of hemp seeds

6 tablespoons pumpkin seeds

2 tablespoons poppy seeds

1 cup of water

1 teaspoon of sea salt
Instructions
Preheat the oven to 180 ºC with heat up and down.
Put all the seeds in a large bowl and add the water and salt.
Stir well and let it rest for 10-15 minutes so that the seeds absorb the water.
Put the mixture on a tray lined with parchment paper and spread it well with a spatula until it is about 2 mm thick.
Bake the mace for about 15 minutes, then carefully remove it from the oven, cut the dough with the knife to shape the crackers and bake them again, another 20 minutes.
Now, to make them even more crunchy, gently turn your crackers over and bake them for another 5 minutes.
Take out of the oven and wait for them to cool. You can store them in an airtight container for up to two weeks.
I hope you like this recipe, tell me what you think in the comments 🙂