Also in August, I keep my promise to publish a recipe inspired by Japanese cuisine every month. The recipe that I propose today is straightforward, it is prepared in 5 minutes and requires very few ingredients. It is a fresh and light salad with an original flavor of sesame. It is an ideal recipe for summer since it does not require cooking and it is eaten cold. It is a perfect dish to make a fresh and healthy snack, but it can also be used as an accompaniment to other more elaborate dishes. I hope you like it as much as I do 🙂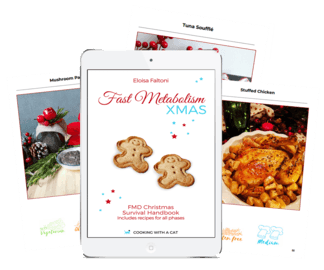 Second Edition
Download the e-book
Until December 8th you'll have a 50% discount
Ensalada japonesa con sésamo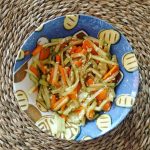 Print This
Ingredients
1 medium cucumber

2 carrots

2 tablespoons of sesame oil

4 teaspoons of raw sesame

1 tablespoon of tamari sauce

Salt
Instructions
Peel the vegetables and cut them into thin strips with a knife or with the help of a mandolin slicer.
In a small bowl, mix the tamari sauce, the sesame oil and a pinch of salt.
Dress the vegetables with the sauce and the sesame seeds.
This recipe is suitable for the Fast Metabolism Diet – FMD Phase3; With these amounts, you get 1 P3 complete snack for <20 pounds.
For this recipe, you may need: