Coconut is the most famous tropical fruit in the world and one of the most cultivated. From this fruit, different ingredients are obtained, such as coconut milk, coconut oil, coconut flour, grated coconut …
Coconut is a fresh, tasty and very versatile fruit; In fact, it is very easy to use it for cooking, to make cakes, ice cream or shakes or for salty preparations. Personally, coconut milk and coconut oil are two of my favorite cooking ingredients and both are full of healthy fats; In addition, coconut oil is one of the best choices when it comes to frying as it resists very well at high temperatures.
The recipe that I propose today is very simple and brings several ingredients derived from the coconut, we will see: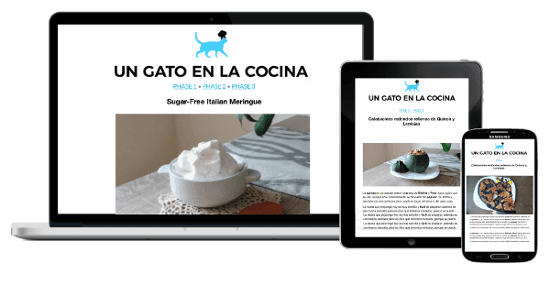 New FMD recipes every week

All my recipes are suitable for FMD!
Gluten-free coconut muffins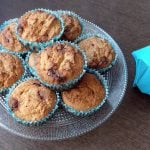 Print This
Ingredients
1/4 cup defatted coconut flour

1/4 cup of sorghum flour

1 tablespoon of tapioca flour

2 eggs

3 tablespoons coconut oil

15 gr of chickpea flour

3 tablespoons grated coconut

3 tablespoons birch xylitol

1/2 cup of coconut milk

2 and 1/2 tablespoons of cocoa paste (approx. 20 g)

1/2 teaspoon cream of tartar

1/2 teaspoon baking soda
Instructions
Preheat oven to 160 ° C
In a large bowl, mix the defatted coconut flour, with the sorghum, tapioca, chickpeas, grated coconut, cream tartar and bicarbonate
In another bowl, mix the eggs with the xylitol and the coconut oil, beat until homogeneous
Combine the liquid compound into the flour mixture and mix well, it will remain a fairly dense compound
Add the coconut milk
Crush the cacao paste into very small pieces and add them to the compound, mix well
Divide the compound into paper cupcake molds
Bake in a ventilated oven for 40 minutes
This recipe is compatible with the Fast Metabolism Diet – FMD Phase 3; With these quantities, you get 3 breakfasts for >20 pounds. For a complete breakfast, add 1/2 serving of protein, 1/2 portion of healthy fats and phase fruit and vegetables.
Notes
WARNING FOR CELIAC: always check that the products that you use are certified without gluten, for who has doubts in this respect can be informed in the following link: http://bit.ly/GlutenFreeSymbolologíaSinGluten