The custard is a fairly simple sweet and very diffuse, it is prepared with egg yolks, milk or cream, and sugar; each culture has a different variation of this dish and even a different name, in Italy is called Crema pasticcera in Spain Is called Natilla, in France is called Crème anglaise…  It is not entirely clear the origin of this dish, although one of the most diffuse theories is that it was born in a monastery in central Europe.
The version I present today is much lighter than the classic custard and very original. The consistency of the custard with the fresh taste of ACE makes this dessert unique. It is a perfect choice for both breakfast, lunch, and dinner.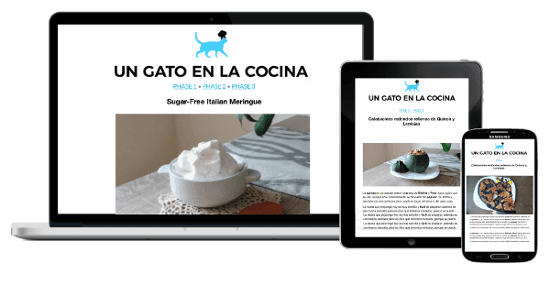 New FMD recipes every week

All my recipes are suitable for FMD!
Homemade ACE custard without lactose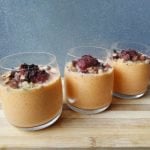 Print This
Ingredients
3 cup coconut milk

4 whole eggs

6 carrots

1 tablespoon of arrowroot

6 tablespoons birch xylitol

Lemon juice of 1/2 lemon

Orange zest

3/8 cup of raw hazelnuts

1 tablespoon of cacao paste

1 and 1/2 tablespoon raw jam (OPTIONAL)
Instructions
Peel the carrots, cut them and steam them until they are tender
Meanwhile, in a casserole, put the coconut milk over low heat
In a bowl separate the egg whites from the yolks
Combine egg yolks, xylitol, and arrowroot to the coconut milk and mix constantly with a pastry stick
It has to be removed slowly and carefully so that no lumps
When the compound has reached the desired consistency, remove it from the fire and cover with transparent paper to contact the surface, so that a crust does not form
Meanwhile, put the egg whites to cook slowly to the water bath and go stirring constantly
When the egg whites begin to adopt a creamy consistency, add lemon juice and orange zest
Continue to rotate until the cream is homogeneous and then remove from the heat
Whisk the carrots until they are pureed
Combine the egg whites and carrots to the yolk and coconut milk compound and stir vigorously until you have a homogeneous light orange cream
Divide the cream into cups or glasses and let stand in the refrigerator covered with transparent paper for a couple of hours
Before serve, decorate with chopped hazelnuts and cacao paste
You can also add a little bit of raw jam if desired *
This recipe is suitable for the Fast Metabolism Diet – FMD Phase 3; With these amounts, you obtain 3 portions of healthy fats for >20 pounds, but only 2 portions of proteins. For this reason, this recipe complements very well my recipe of gluten-free Bread rolls stuffed with jam; Making both recipes together, you have to integrate with the remaining fruit.
Notes
* If you are following the FMD, it is important to remember that in Phase 3 fruit can only be used for breakfast and lunch
If you liked this recipe do not forget to tell me in a comment 🙂