Crumble is a dessert of British origin that goes back to the Second World War when rationing made it difficult to find many ingredients, especially fresh like milk and eggs. This dessert is effortless to prepare, and only a few ingredients in common use are needed.
It is possible to make this recipe with different fruits, such as apples, cherries, pears and much more. The version that I propose is with berries, and it is vegan and very healthy.
If you make it for several people it can be done in a pastry mold or a glass tray, although I always advise using individual molds to serve them directly thus, the best is ceramic.
I wait for your opinions!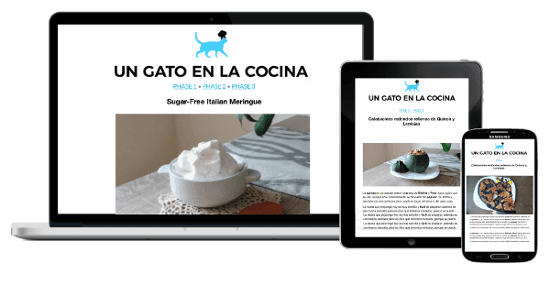 New FMD recipes every week

All my recipes are suitable for FMD!
Vegan crumble with berries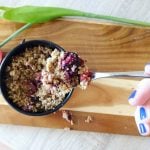 Print This
Ingredients
1/2 cup of blackberries

1/2 cup raspberries

1/2 cup blueberries

3 tablespoons coconut butter

3/8 cup oat

3/8 cup lentil flour

3 tablespoons almond milk *

2 tablespoons birch xylitol

1 pinch of salt
Instructions
Preheat the oven to 350° F (180 °C)
Remove the butter from the refrigerator to soften
Using a blender, grind 1/4 cup of oat  into thick flour
In a bowl, mix the ground oat, remaining whole oats (1/8 cup), lentil flour, a tablespoon of xylitol and a pinch of salt
Add coconut butter and almond milk and work quickly with your hands, without forming a dough; The consistency should be similar to wet sand with large crumbs and easy to compact
Put the remaining xylitol in the base of an individual mold and put the berries on top
With the hands distribute the sandy dough, without pressing it, and leaving some piece of fruit uncovered
Bake for 15-20 minutes
This recipe is suitable for the Fast Metabolism Diet – FMD Phase 3; with these quantities, you get one breakfast for >20 pounds. For a complete breakfast, remember to add you serving of phase veggies.
Notes
*In this recipes you use three tablespoons of almond milk like a condiment. - WARNING FOR CELIAC: always check that the products that you use are certified without gluten, for who has doubts in this respect can be informed in the following link: http://bit.ly/GlutenFreeSymbol