Happy 2018 to all! I am pleased to see you again here 🙂 I hope you have had a great holiday with your families and that you have many good New Year's resolutions. I, truthfully, have two Resolutions that I want to share with you.
I want to thank all of you who follow me so faithfully; you are fantastic. I appreciate every comment, like, mail and private message that you send me. Thank you. Sometimes, it has happened that someone has "asked" for a recipe, for example, I remember the case of Erika, who asked me if I had a recipe for Brownies and a few weeks later I created this recipe for gluten-free Brownies. Inspired by this event, I thought about my New Year's Resolution: this year, part of the recipes I will prepare will be chosen by you. My idea is that you leave me on my Facebook page comments with your favorite recipes that you miss in FMD and I will prepare the most voted, and I will adapt them to FMD.
My other purpose for this year is to spend some time in Japan. So I am going to start studying Japanese, for this reason, I have decided that once a month, I will publish on the blog a recipe for DMA inspired by Japanese cuisine. And to show that I'm serious, I start the year with this Low carb Ramen.
The Ramen is a typical dish of Japan, although it seems that its origin is China. It is a noodle soup accompanied by meat, tofu, seaweed, and egg. There are many different types of Ramen; in fact, each region has its specialty. Today I propose a version for FMD, perfect for Phase 2, made with shirataki (miracle noodles). It is a somewhat tricky recipe, but it offers a lot of satisfaction. It is also perfect to surprise your guests. Do not forget to give me your opinion 😉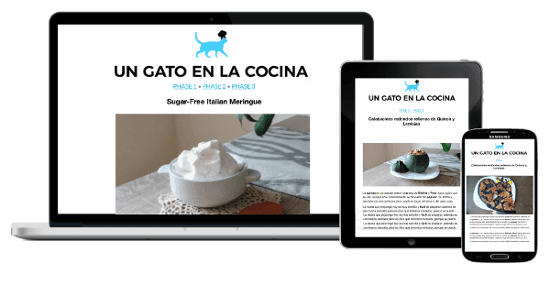 New FMD recipes every week

All my recipes are suitable for FMD!
Ramen casero Low carb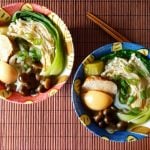 Print This
Ingredients
200 gr of shirataki (miracle noodles)

For the broth:

200 gr of pork loin

3 leaves of cabbage

2 bunches of pak choy

2 bunches of enoki mushrooms

1 bunch of brown shimeji mushrooms

1 leek

1 cup of daikon

1 fresh spring onion, with the whole stem

1 sheet of nori seaweed (only P3)

1 bay leaf

4 cloves of garlic

2 tablespoons chopped ginger

2 tablespoons white wine vinegar

Salt

For the egg:

1 egg

1/2 tablespoon white wine vinegar

4 tablespoons of Tamari

1/2 teaspoon ginger powder
Instructions
Fill a small pot with water and add 1/2 tablespoon of vinegar. Boil the egg and cook until it is entirely hard (at least 10/12 minutes from boiling).
When the egg is hard, cool it under running water and peel it. Put it whole in a bowl, with the tamari sauce and the powdered ginger and let it marinate for 1 hour. It is essential to turn the egg every 5/10 minutes so that the outside of the egg acquires a uniform color.
Vegetables: Carefully separate the cabbage leaves and pak choy leaves and wash them. Cut the base (not the trunk) to the shimeji mushrooms and wash them. Wash the bunches of enoki mushrooms without separating them and tie them with a kitchen thread so that they do not separate during cooking. Peel the daikon and cut it into pieces. Peel the onion, cut it into quarters and reserve the stem. Wash the leek thoroughly and cut it into four parts.
In a large pot, put all the vegetables with the nori seaweed(only P3), the bay leaf, the whole garlic cloves and the chopped ginger. Cover with plenty of water and boil for several hours.
Meanwhile, tie the meat with kitchen thread so that it maintains an elongated and rounded shape (like a tube).
Once tied, put the meat in a non-stick pan and brown on all sides.
When the meat is well browned, put it in the pot with the vegetables and let it cook (with the lid) for at least 2 hours.
After Three hours since the broth began to boil, remove the meat from the broth, and put it to marinate with the egg. Leave the meat in this brine for at least 20 minutes.
Rinse the shirataki (miracle noodles) with running water and put them in a pot with a little broth. Let them cook for a few minutes (according to the instructions on their packaging).
Remove the meat and the egg from the brine: remove the meat and cut it into several slices, cut the egg in half and remove the yolk (be careful not to break the white). Add the remaining brine to the broth. Taste and adjust salt.
It only remains to serve: in the bottom of some bowls, place the leaves of cabbage (cabbage), a piece of daikon and above the shirataki (miracle noodles). Also place the rest of the vegetables: the leeks, the shimeji mushrooms and the enoki (without thread), the pak choy, egg white half and several slices of meat in each bowl. Cover everything with plenty of broth.
Serve very hot with a little of the fresh finely chopped onion stalk.
This recipe is suitable for the Fast Metabolism Diet – FMD Phase 2. With these quantities, you get 2 full meals for <20 pounds.
Notes
WARNING FOR CELIAC: always check that the products that you use are certified without gluten, for who has doubts in this respect can be informed in the following link: https://bit.ly/GlutenFreeSymbol