Each of us has their ideal breakfast; there is the one who chooses the classic croissant with coffee, who has little time and prepares a fruit smoothie, the sweetest ones eat a piece of cake, those who prefer the salty breakfast and choose a toast with ham … but there is a breakfast that everyone considers a classic: I'm talking about bread with jam. The recipe that I propose today is easy and original, but conserve a good aroma of tradition, these are gluten-free bread rolls, made with Sorghum flour and stuffed with a Raw Vegan Jam.
You can see the jam recipe here.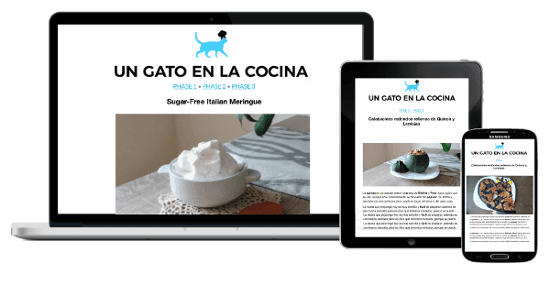 New FMD recipes every week

All my recipes are suitable for FMD!
Gluten-free Bread roll stuffed with jam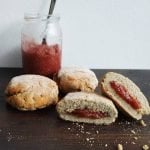 Print This
Ingredients
1/2 cup of Sorghum flour +1 tablespoon for the preparation

1/4 cup of chickpea flour

4 g dry natural yeast

4 tablespoons water

1 pinch of salt
Instructions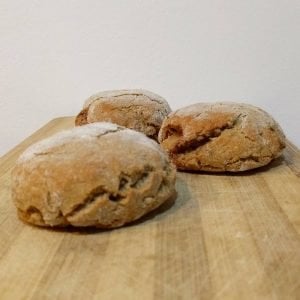 Combine 1/2 cup of sorghum flour with chickpea flour, in a large bowl.
Add dry yeast and pinch salt and mix well.
Combine the water and work a little with your hands to create a fairly uniform dough.
Cover with a clean cloth and store in a place without direct light or moisture *
Let stand 4 hours
Put a sheet of baking paper on top of your work plane and place the dough, which will have grown enough ** and sprinkle with the remaining flour spoon
Divide the dough into three equal parts, and with each of the parts forms a small bowl of dough
Put a spoonful of jam in the center of the dough and close it gently, giving it the shape of a bun
Put the rolls on a baking tray and bake them for 30 minutes in a preheated ventilated  oven at 180º C (350º F)
The muffins are ready to eat!
This recipe is compatible with the Fast Metabolism Diet – FMD Phase 3; With these amounts, you obtain 3 portions of grains for >20 pounds, but only 1 portion of proteins. For this reason, this recipe complements very well my recipe of Homemade ACE custard without lactose; Making both recipes together, you have to integrate with the remaining fruit.
Notes
* I put it inside the oven off - **Although the dough grows a lot, it does not grow as much as the white flour bread -VARIATIONS: These bread rolls can also be filled with other ingredients or without filling. -WARNING FOR CELIAC: always check that the products that you use are certified without gluten, for who has doubts in this respect can be informed in the following link: http://bit.ly/GlutenFreeSymbol
If you liked this recipe tell me in a comment 🙂