The Escalivada is a traditional dish here in Barcelona. It is a simple but delicious dish, consisting of fire-roasted vegetables, but since we cannot have a barbeque every day, I have thought of proposing an oven-roasted version.
The Escalivada is very versatile, you can use it as a side to any dish, put it on top of toast, eat it alone … If you want, here you can see my Instagram Reel (video) of this recipe.
New FMD recipes every week

All my recipes are suitable for FMD!
Oven-roasted Escalivada [pepper, eggplant, onion]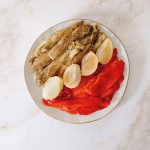 Print This
Ingredients
4 red bell peppers

2 aubergines (P1 and P3 only)

1 onion

Extra virgin olive oil (optional; only P3)
Instructions
Preheat the oven to 200ºC.
Wash the peppers and eggplants, dry them well with a clean cloth, and peel the onion.
Place all the whole vegetables on an oven sheet and make a small cut at the base of the eggplants.
Pour some olive oil over your vegetables and brush them to coat the surface. This step is optional, you can roast the vegetables without oil if you prefer.
Bake your vegetables for about 50 minutes or more if necessary, until they are cooked through. Every once in a while, flip the veggies so they are done nicely on all sides.
When the vegetables are well cooked, take them out of the oven and let them warm for a few minutes, so that they are not so hot when you go to peel them.
Very carefully peel all the vegetables and remove the seeds from the peppers. Be especially careful not to burn yourself on the peppers as they can contain very hot water inside.
Cut the peppers and the aubergines, the strips, and the onion into quarters.
Place your vegetables on a plate and season with salt, oil, garlic, chopped parsley, or whatever you like best.
You can also keep your Escalivada in the fridge in an airtight container. It will keep one 4-5 days without a problem.
This recipe is compatible with the Fast metabolism diet – FMD Phase 1, Phase 2, and Phase 3 (the eggplants only in P1 and P3; and the oil only in P3).