Sometimes, I like to look at my old recipes and renew them giving them a new unique touch. After the success of my tofu sticks with the aroma of thyme, I decided to create a new version of this recipe giving it an oriental feel. It is an easy and delicious recipe, perfect for a Phase 2 snack for vegans and Lacto-ovo vegetarians.
Do not miss any of my vegetarian and vegan recipes. Also remember that you can ask me what you want by leaving me a comment, sending me an email or writing me on Facebook or Instagram. 😉
New FMD recipes every week

All my recipes are suitable for FMD!
Tofu sticks with Turmeric & Ginger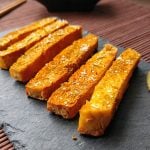 Print This
Ingredients
170 gr. of tofu to the natural

1 teaspoon of turmeric

1 teaspoon curry

1/2 teaspoon ground ginger

Fresh ginger

Salt
Instructions
Freeze the tofu for 8 hours or the night before
Preheat the oven to at 350º F (180º C)
Let the tofu unfreeze and cut into sticks about one centimeter thick
Put the sticks on kitchen paper and put salt on them
Let stand for a couple of minutes and then with another piece of kitchen paper dry the sticks as much as possible
Tofu, after being unfrozen will lose a lot of water. It has to lose all water possible
In a bowl, mix turmeric, ginger, and curry and sprinkle the sticks with this mix.
Grate a little bit of fresh ginger above the stick and arrange them on a baking sheet lined with baking parchment
Bake for 25 minutes or until entirely crispy.

This recipe is compatible with the Fast Metabolism Diet – FMD Phase 2 ONLY for vegans; With these quantities, you get two snacks for >20 pounds or 1 breakfast for >20 pounds. For a complete breakfast add phase vegetables.