Also this month, I continue with my promise to publish a recipe inspired by Japanese cuisine every month. This promise I made was one of my New Year's resolutions, and the truth is that I am thrilled, since, until now, I have been able to fulfill it. This idea came to me because in September I will travel to Japan for the first time and I am very excited.
The recipe that I propose today is straightforward to prepare and requires only a few ingredients. It is a very light and fresh cucumber salad called sunomono. It is an ideal recipe for summer since it does not require cooking and it is eaten cold. It is a very comfortable and versatile dish and can be used as an appetizer or as an accompaniment to a more consistent dish such as a roast, for example. I hope you enjoy this recipe as much as I do 🙂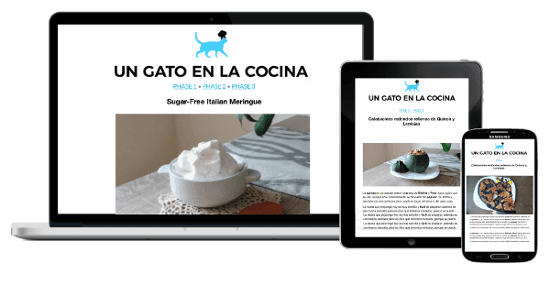 New FMD recipes every week

All my recipes are suitable for FMD!
Sunomono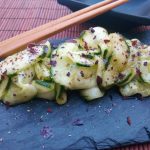 Print This
Ingredients
2 cucumbers

1 tablespoon of birch xylitol or stevia to taste

1 teaspoons of ginger: fresh and grates or powdered

2 teaspoons of tamari sauce

3 tablespoons of rice vinegar in P1 or apple cider vinegar in P2 and P3

1 teaspoon of pink or marine salt

1 teaspoon mix of dried seaweed in F3 (optional)

1 pinch of black pepper
Instructions
Peel the cucumbers, leaving some strip of skin on each cucumber so that they are scratched.
Cut the cucumbers into thin slices; It is ideal to make them with the mandolin, although a sharp knife also works.
Put the cucumber slices, add the salt and mix well. Let stand about 5 minutes.
Meanwhile, in a bowl, mix the birch xylitol or the stevia, the grated or powdered ginger, the tamari sauce and the vinegar. If you use the xylitol, you have to beat until it is completely dissolved, if it is necessary, the vinegar can be heated slightly to make it easier.
With your hands, squeeze the slices of cucumber a little so that they release part of their water.
Mix the cucumber with the sauce, and leave in the fridge for at least 1 hour.
Just before serving, sprinkle each portion with one piece of black pepper.
[OPTIONAL] In F3, you can sprinkle with the seaweed that you prefer.
For this recipe, you may need:
 
Notes
WARNING FOR CELIAC: always check that the products that you use are certified without gluten, for who has doubts in this respect can be informed in the following link: https://bit.ly/GlutenFreeSymbol