The pancakes are a very typical breakfast in the United States, but they have become very famous all over the world;  this fluffy flour-based dessert is delicious, quick to prepare and can easily be made healthier. It is fantastic with butter and honey, but also with chocolate and fresh fruit.
To create today's recipe I have been inspired in the Japanese pastry and its very spongy and green pancakes (usually for the matcha); my recipe is a little different, it is caffeine free so I have used kale powder to give it the green color and the bitter touch that the matcha has. It is accompanied very well with the Italian meringue or the rhubarb jam 🙂
New FMD recipes every week

All my recipes are suitable for FMD!
pancake de kale y lima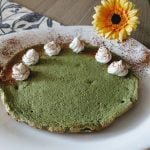 Print This
Ingredients
3 egg whites

1 tablespoon of arrowroot

1 teaspoon kale powder

1 lime (green)

3 tablespoons birch xylitol

1/2 teaspoon raw cocoa powder (optional)
Instructions
In a large bowl, mix egg whites and xylitol and beat until soft peaks form
Gradually add 1 tablespoon of lime juice to the egg whites, while continuing to whisk until stiff, glossy peaks form when you lift the whisk out of the bowl
In a small bowl, mix the arrowroot with the kale powder and grated lime zest, and add it to the egg whites; Mix gently until uniform
Place a piece of baking paper of the same size in a non-stick frying pan
Pour the foaming compound* onto the oven paper, cover with lid and cook over medium heat, for 20 minutes
Carefully remove pancake from baking paper and serve with Italian meringue** and raw cacao (optional), rhubarb jam or whatever you want
This recipe is compatible with the Fast Metabolism Diet – FMD Phase2;  with these quantities, you get 1 breakfast for <20 or 2 snacks for <20. For a complete breakfast add phase vegetables.
Notes
*For convenience, I have prepared a single large pancake, but it is possible to make several smaller pancakes if desired. - ** If you use Italian meringue, watch the quantities: do not exceed your portion. - WARNING FOR CELIAC: always check that the products that you use are certified without gluten, for who has doubts in this respect can be informed in the following link: http://bit.ly/GlutenFreeSymbolologíaSinGluten