How many times have we spent inviting friends to dinner but between one thing and another we have not had time to cook? And how many times we stayed to work late and the last thing we want is to have to prepare dinner? Well, today I propose a solution!
The recipe I present today is not only very tasty and simple to prepare, but also very fast: this makes it perfect for those occasions when we do not have the time or we are tired.
New FMD recipes every week

All my recipes are suitable for FMD!
Chicken with lemon, parsley and shallot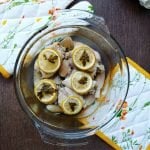 Print This
Ingredients
680 gr of chicken breast

2 lemons

Fresh parsley

8 or 10 shallots

Black pepper

Salt
Instructions
Preheat the oven to 190º C (370º F)
Cut the chicken breasts horizontally, so that there are about 8 pieces of the same dimensions. Pieces should not be too thin
Peel and cut the shallots in half
Sprinkle with salt and pepper the chicken pieces and put in the middle of each a branch of parsley and half shallot
Roll the chicken pieces over themselves and put them in a pot for oven with lid
Put in the pot also the remaining shallots
Cut a lemon into slices and put a slice on each piece of chicken
Squeeze the other lemon over the meat and the shallots
Bake for 30 minutes (in a pot with a lid)
This recipe is compatible with the Fast Metabolism Diet – FMD Phase 2 and Phase 3; With these quantities, you get 4 protein portions for >20 pounds.
If you like my recipes, do not forget to tell me with a comment 😉