These chard and pepper muffins are an ideal way to start the day: they are absolutly perfect to take them to work, they require only a few ingredients and you can leave them ready the night before.
Try them also as a snack!

New FMD recipes every week

All my recipes are suitable for FMD!
Swiss chard & peppers muffins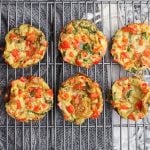 Print This
Ingredients
6 egg whites
2 cup of fresh Swiss chard
2 cup of red peppers
2 teaspoons of nutritional yeast
1 teaspoon turmeric powder
Salt and pepper to taste
Instructions
Preheat the oven to 180º C.
Wash the chard well and sauté in a pan, a couple of minutes, with two or three tablespoons of water.
Meanwhile, wash the peppers and cut into squares of about 1 cm.
In a large bowl, beat the egg whites with the turmeric powder, nutritional yeast, salt and pepper.
Drain chard well and mix with egg whites and part of the peppers.
Distribute the compound in silicone molds for muffins or in disposable aluminum molds.
Sprinkle each muffin with the remaining pieces of peppers and bake about 20 minutes.
This recipe is compatible with the Fast Metabolism Diet, Phase 2 – FMD P2. With these quantities you get 2 protein servings for <20 pounds or 6 protein servings for snack for <20 pounds.