As you may have noticed by my latest recipes, I begin to feel the need for fresh and light dishes; For this reason, today I propose a very simple dish to make, very fresh and with a really original flavor. These are tempeh dumplings served on lettuce leaves, it's a truly amazing raw and vegan dish.
This recipe is very suitable both for a family dinner and for an aperitif among friends, and it is best to prepare in a few minutes, and if you have children they will love to help you.
I hope your opinions!
New FMD recipes every week

All my recipes are suitable for FMD!
Albóndigas crudiveganas de tempeh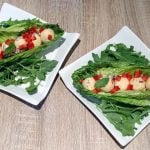 Print This
Ingredients
8 oz. of tempeh

4 leaf of romaine lettuce

1/2 cup of arugula

1/2 red pepper

1/2 red onion

1 clove garlic

1 lemon

1 teaspoon fresh thyme

1 pinch of pepper

Salt
Instructions
Cut the tempeh into pieces and let it soak for about 12 hours
Wash all vegetables well
Chop the red pepper and onion finely
Place the drained tempeh, half of the chopped onion, thyme, garlic, pepper, salt and lemon juice in a blender; Beat until it is a homogeneous compound, similar to wet sand
With your hands, form a few balls of sandy compound; It works very easily
On a plate, place 2 leaves of romaine lettuce and stuff them with the tempeh dumplings
Decorate with chopped red pepper, remaining chopped onion and arugula
This recipe is compatible with the Fast Metabolism Diet – FMD Phase 2 ONLY for vegans; With these quantities, you get 4 snacks for <20 pounds or 2 meals for <20 pounds.
Notes
WARNING FOR CELIAC: always check that the products that you use are certified without gluten, for who has doubts in this respect can be informed in the following link: http://bit.ly/GlutenFreeSymbol