Whether you are organizing a barbecue with your friends, you are planning the party menu, or you are looking for some healthy and delicious idea, these lemon shrimp skewers are ideal for you. This dish is not only delicious, but they are an ideal dish for any occasion. It is also easily prepared and with few ingredients.
Customize your skewers
The best thing about this recipe is that you can customize it by changing the herbs and adding a touch of extra flavor. I propose some delicious and original combinations that you can try:
lemon, black pepper, and turmeric
lemon, garlic, black pepper, and oregano
lime, coriander, and chili flakes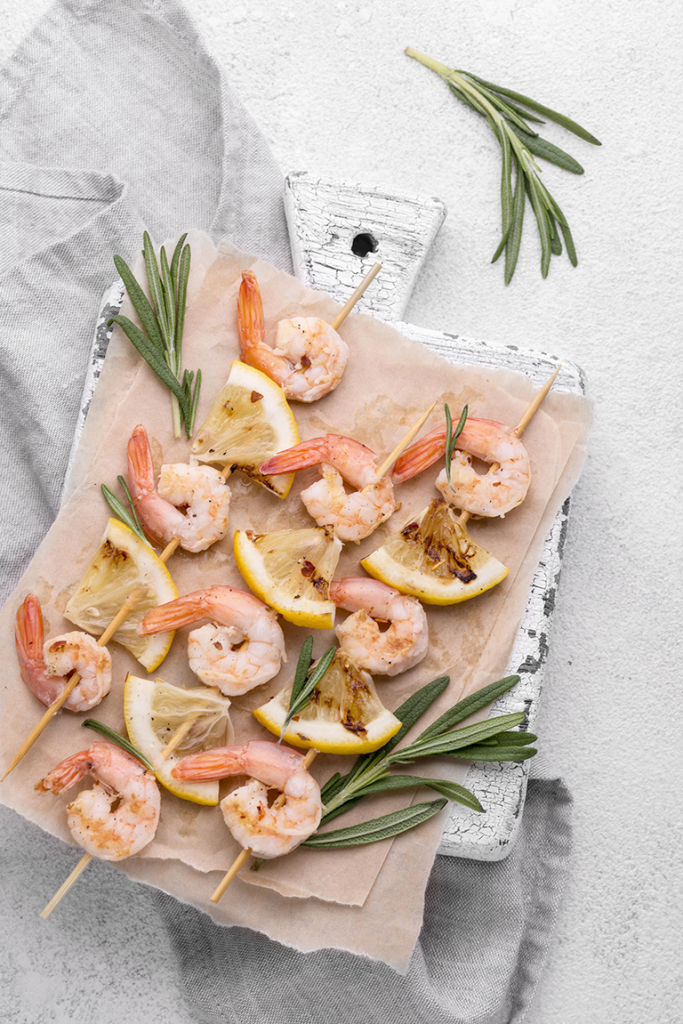 New FMD recipes every week

All my recipes are suitable for FMD!
Lemon shrimp skewers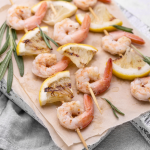 Print This
Ingredients
340 g of peeled shrimps, leaving only the tail

3 or 4 fresh lemons

3 garlic cloves

3 tablespoons of extra virgin olive oil

Fresh herbs of your choice

Black pepper

Sea salt
Instructions
Fill a large bowl with water, and put your wooden sticks inside, so that they soak for a half-hour and do not burn during cooking.
Meanwhile, wash the shrimps well and peel them, leaving the tails on them. You can also ask to have them prepared for you at the fishmonger.
Thinly slice one or two lemons, then cut each of the lemon slices into quarters.
Now, prepare your skewers: thread three shrimps and two lemon pieces, alternately, on each of your wooden sticks. Repeat this operation until you finish the shrimps.
Put all your skewers on a large platter.
Very finely chop the garlic and fresh herbs you have chosen. Parsley, chives, and thyme are ideal for this recipe, but you can choose the ones you prefer.
Prepare the dressing by mixing in a bowl the juice of two lemons, the oil, the grated skin of a lemon, the minced herbs, the minced garlic, ground black pepper, and a little salt. Mix well and pour over the skewers.
Cover the tray with the skewers with plastic wrap and let them rest for about 20 minutes in the fridge.
When the skewers have taken on flavor, heat a griddle or non-stick pan and cook the skewers for a few minutes per side. You can also cook them on a barbecue.
This recipe is compatible with the Fast Metabolism Diet's Phase 3 (FMD); With these quantities, you get 2 protein servings for <20 pounds and 1 healthy fat serving for <20 pounds.
I hope you enjoy this recipe!
Eloisa