We all know that vegetables are essential in our alimentation, but sometimes eating them is not so easy; I go crazy for vegetable soups, risotto and baked vegetable with mayonnaise, etc. but there is food that no one can resist: cakes. So for the days that we're not in the mood to eat so many veggies, I've created this simple and delicious recipe for pumpkin cake. It is a recipe super easy to make and is perfect for Phase 3 breakfast, accompanied by a good smoothie of vegetables and fruits. It is a vegetarian cake, dairy-free, very spongy and slightly moist inside.
A success on every occasion!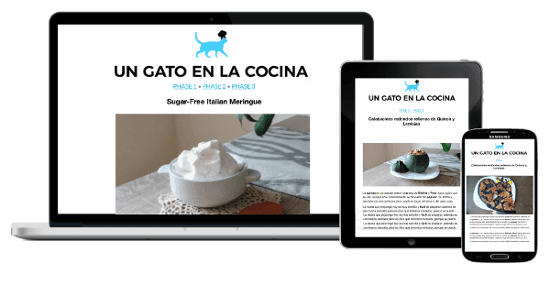 New FMD recipes every week

All my recipes are suitable for FMD!
Pumpkin Cake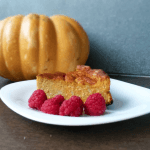 Print This
Ingredients
1/2 cup oat, old-fashioned

1/4 cup of rye flour

1/4 cup of tapioca flour

3 cup of pumpkin

1 cup of carrot

1/2 cup of almond meal

1/2 cup of grated coconut

6 tablespoons sunflower oil

1/2 cup of chickpea flour

1 egg + 2 egg whites

1/2 cup of birch xylitol - or stevia to taste

1/2 cup of almond milk *

1 teaspoon cream of tartar

1 teaspoon baking soda
Instructions
The first thing is to chop the pumpkin and carrots and bring them to boil in plenty of water.
Preheat the oven to 330º F.
Meanwhile, crush the oat with the help of a blender and combine it with the other flours, the cream of tartar and the baking soda.
Put the flour mix in a big bowl and add the eggs, egg whites, oil and xylitol.
Mix until is homogeneous and add the coconut milk.
Drain the carrots and pumpkin and crush them in the blender, until turning them into a smooth puree.
Add the puree and grated coconut; Mix everything until it is homogeneous.
Put in a silicone mold and bake for about 45 or 50 minutes.
Before removing it from the oven, let it rest for 10 minutes, inside the oven, with the lid half open.
This recipe is suitable for Fast Metabolism Diet Phase 3 – FMD P3. With these quantities, you get 6 grain servings, 6 healthy fat servings, 2 protein servings and 2 veggies servings for <20 pounds.
For this recipe, you may need:
Notes
*In this recipe, 1/2 cup of almond milk count as a condiment.