Do you love coconut? You have found the perfect recipe for you!
These coconut cookies are delicious, have an irresistible aroma, and are full of good fats. They are gluten-free, crunchy, and tasty cookies that can be prepared in just a few minutes. Let's see what is needed.
New FMD recipes every week

All my recipes are suitable for FMD!
Coconut cookies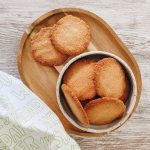 Print This
Ingredients
1 cup shredded coconut

1 cup almond flour (finely ground almonds)

1 egg or 1 vegan egg substitute (1 tablespoon ground flaxseed mixed with 3 tablespoons water)

3 tablespoons virgin coconut oil

3-4 tablespoons birch xylitol or stevia to taste
Instructions
Preheat the oven to 180ºC (350ºF).
In a bowl, pour the egg or egg substitute and beat well. Add the almond flour, grated coconut, and sweetener and mix well.
Add the coconut oil and continue mixing until you get a homogeneous mass.
With your hands, form several balls of the same size and flatten them to form cookies; put them on a baking tray lined with baking paper and bake them between 18 and 23 minutes until they're golden brown.
Take the cookies out of the oven and cool them on a rack.
This recipe is compatible with the Fast Metabolism Diet – FMD Phase 3. You get 9 healthy fat servings for <10 pounds with these amounts.