If you feel like enjoying a pumpkin pie but don't feel like getting involved in making one, I recommend you try these "pumpkin pie" style balls. They are delicious, healthy, and straightforward to make. Also, the best part is that you can prepare them beforehand and keep them in the fridge for 3-4 days or even freeze them and take them out when you need them.
For this recipe, you only need 5 minutes and a handful of easy-to-find ingredients. In addition, you can make yourself pumpkin puree and almond butter.
New FMD recipes every week

All my recipes are suitable for FMD!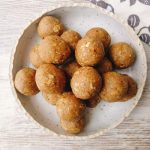 Print This
Ingredients
1 cup of rolled oats

1/4 cup of pumpkin puree

1/4 cup of pecans or walnuts

3/8 cup of almond cream or other dried fruit

2 tablespoons ground flax seeds

1/2 teaspoon ground cinnamon

1/2 teaspoon ground cloves

1/2 teaspoon of cardamom powder

1/2 teaspoon star anise powder

Stevia to taste
Instructions
In your food processor, put the pumpkin puree with a little stevia according to your taste. Beat for a minute to incorporate well.
Now, add the rest of the ingredients and process for a few more minutes until it forms a uniform dough and can be worked with your hands.
Shape your balls with your hands and form about 16 balls.
This recipe is compatible with the Fast Metabolism Diet – FMD Phase 3. You get 8 servings of grain and 4 servings of healthy fat for <10 pounds with these amounts.