Although Cinco de Mayo is not the most important Mexican holiday, in the United States this date is celebrated much. And as I love to experiment with new recipes inspired by cuisines from all countries, I decided to share my version of one of my favorite Mexican dishes in honor of the 5 de Mayo celebration: huevos rancheros. It is a recipe for breakfast, perfect to start the day with energy. In my version, I accompany the huevos rancheros with mixed vegetables and a vegan gordita with flax seeds.
Also, try my vegan tamales.
I hope you like this recipe and happy 5 de Mayo to all!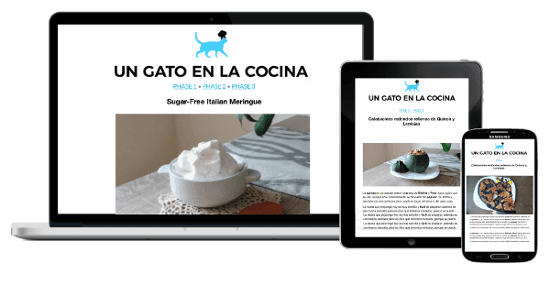 New FMD recipes every week

All my recipes are suitable for FMD!
Huevos rancheros with veggies and vegan gordita with flax seeds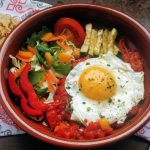 Print This
Ingredients
For the eggs:

1 whole egg

1/2 cup of red, yellow and green peppers

1 cup of tomatoes

1 tablespoon chopped onion

1 clove garlic

1/4 chile serrano

2 tablespoons of olive oil

Fresh coriander

Salt and pepper

For the salad:

1/2 cup of mixed lettuce

1/2 cup of fresh vegetables: carrots, peppers, tomato

1 teaspoon olive oil

1 teaspoon lemon juice

Salt

For zucchini:

1/2 cup of zucchini

1 teaspoon olive oil

1 teaspoon of Tajín

Salt

For the gordita:

1/8 cup of chickpea flour

1/8 cup of oat bran

1 teaspoon flax seeds

1/2 teaspoon cream of tartar and baking soda

1/8 cup of water

Salt
Instructions
For the zucchini: Preheat the oven to 320ºF (160ºC).
Wash and cut the zucchini into strips. Put it in a bowl and dress it with 1 teaspoon of olive oil, 1 teaspoon of Tajín and a pinch of salt. Mix well, put on a tray with baking paper and bake 10/15 minutes.
For the gordita: mix all the ingredients in a bowl. Heat a small nonstick pan and pour the compound. Cook for 3-5 minutes, then lower and turn over. Cook a few more minutes
For the eggs: Chop the garlic, onion, and chile and put them in a non-stick pan with 1 tablespoon of oil. Sauté over low heat for a few minutes.
Wash the peppers and tomatoes, cut them into approximately 1cm pieces and put them in the pan. Cook over low heat, stirring occasionally. Cook about 15 or 20 minutes around.
When the vegetables are well cooked, adjust salt and pepper and add a little chopped fresh coriander. Stir well and reserve.
In the same pan, put 1 tablespoon of olive oil and cook the egg over medium heat. Adjust salt.
For the salad: wash and cut all the vegetables. Dress with 1 teaspoon of oil, salt, and lemon.
To serve: Put the vegetables of huevos rancheros as a base and put the hot egg on top; sprinkle with pepper and chopped cilantro. Serve with salad, zucchini, and the gordita.
This recipe is suitable for the Fast Metabolism Diet – FMD Phase 3. With these quantities, you get 1 breakfast or 1 dinner for <20; in the breakfast add fruit.
If you omit the gordita, you can use this recipe for lunch; in this case, put the flax seeds into the salad and add the remaining protein and fruit.
For this recipe, you may need:
     
Notes
WARNING FOR CELIAC: always check that the products that you use are certified without gluten, for who has doubts in this respect can be informed in the following link: https://bit.ly/GlutenFreeSymbol - if you are sensitive to oat, switch it for quinoa flakes.