Quinoa is a pseudocereal originating in Bolivia and Peru; It has been used for centuries, although it has only recently become so popular. Its shape and consistency are perfect for replace of rice or couscous.
The recipe I propose today is very simple and easy to prepare; it is a good choice for the days that we have guests because it can be prepared quickly and its presentation is very original. 🙂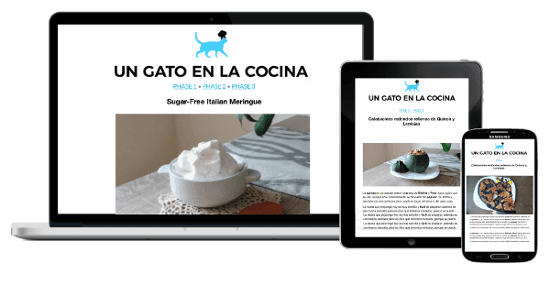 New FMD recipes every week

All my recipes are suitable for FMD!
Round zucchini filled with quinoa and lentils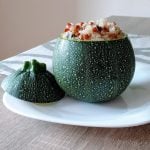 Print This
Ingredients
8 round zucchini

4 cups of cooked quinoa

2 cups of cooked lentils

2 cups of mushrooms

1 onion

2 cups of fresh spinach

2 cups of cherry tomato

1 cup vegetable stock

Thyme

Sal
Instructions
Preheat the oven to 190º C (370º F)
Wash the zucchini and cut the top (The result should be like a small lid)
Extract the pulp from the zucchini with a spoon until they are empty (careful not to break them)
Wash and cut others vegetables (even zucchini pulp); put them in a pan with 3/4 cups of stock and let cook over medium heat for 10 minutes
When the vegetables are cooked, add the quinoa, the lentils, and the remaining stock
Add salt and thyme, set cook a few minutes
Fill the zucchini with the quinoa and cover them with the upper section of the zucchini themselves
Place the zucchini on a baking sheet covered with aluminum  foil
Bake for 50 minutes
This recipe is compatible with the Fast Metabolism Diet – FMD Phase 1 and Phase 3.
Phase 1: Whit these quantities, get 4 dinners for <20 pounds. If you want to eat this dish for lunch, remember to integrate with phase fruit.
Phase 3: In this phase, you have to use only half the quinoa (2 cups instead of 4), and you can add more vegetables. With these modified quantities, get 4 dinners for <20 pounds, remember to integrate with healthy fats.
Notes
WARNING FOR CELIAC: always check that the products that you use are certified without gluten, for who has doubts in this respect can be informed in the following link: http://bit.ly/GlutenFreeSymbol