Gazpacho is a typical Andalusian dish, which has become a classic of Spanish cuisine. It is a quick recipe to make, economically affordable and above all delicious; Even more in summer. Still not easy to prepare.
I'm not exactly an expert on gazpachos, but I saw in La Principal there was a gazpacho contest, and I thought "I like to cook, and I'm good at inventing: let's try something different." And that I did: with some tomatoes, some cherries and some mozzarella I prepared a fresh and original gazpacho, which won the EXPERIMENTAL GAZPACHO prize.
If you want to try a more traditional version of gazpacho, you can find it here.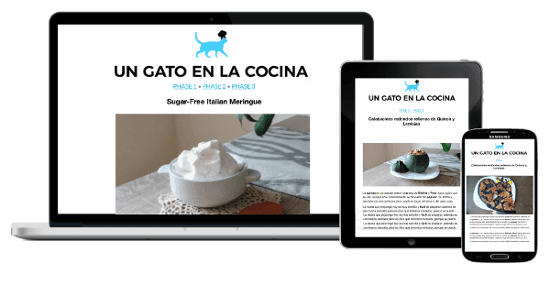 New FMD recipes every week

All my recipes are suitable for FMD!
Gazpacho with cherries and mozzarella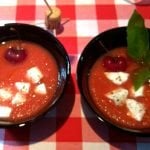 Print This
Ingredients
5 tomatoes

18 cherries + 2 to decorate

1 cucumber

1/2 onion

1 clove garlic

1 red pepper

1/2 mozzarella

Spicy paprika

Fresh and dry basil

EVO oil

Salt
Instructions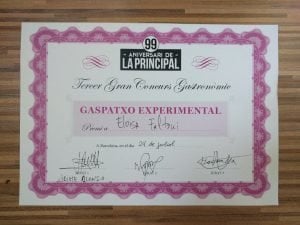 Wash the tomatoes well and pass them by boiling water (only a few seconds) to be able to remove the skin well
Washing and peeling the tomatoes, proceed to remove all the seeds with a spoon
Peel cucumber, onion and garlic (garlic also removed the heart * grandmother's trick *) and cut them into pieces
Wash the peppers and cherries well, remove the seeds and bones and cut them
Combine all the vegetables and the cherries and beat them with the mixer until it is a homogeneous compound
Season with salt, oil and a pinch of paprika and beat again
Serve cold (after a few hours in the fridge) with a few freshly sliced fresh mozzarella
Decorate with fresh basil leaves, a cherry and dried basil on the mozzarella
This recipe is suitable for the Fast Metabolism Diet – FMD Phase 4. Omitting the mozzarella this recipe can also be prepared in Phase 3.