March 17th is St. Patrick's day (patron of Ireland) and tradition wants us to dress in green and celebrate it in a big way. For this reason, I decided to create a little sweet inspired by the famous Irish Coffee. It is a cheesecake without gluten or lactose.
As always I like to propose very healthy recipes suitable for everyone (even children) this recipe is only inspired by the famous Irish Coffee, since in reality, not only does not carry lactose but also does not carry coffee or whiskey, it is still delicious. Happy St. Patrick's Day to everyone!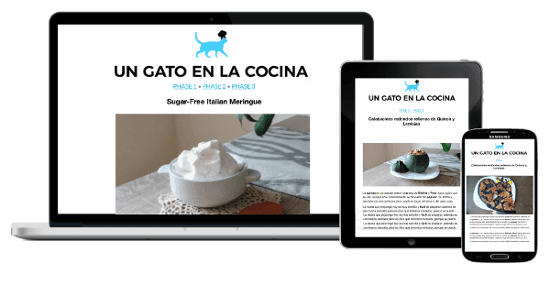 New FMD recipes every week

All my recipes are suitable for FMD!
Gluten-free & lactose-free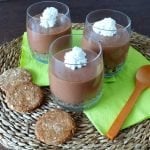 Print This
Ingredients
2 cup of Coconut Milk in cardboard

15 Gluten-free Digestive Cookies, approximately

3.5 tablespoons Deodorized Coconut Oil

1/4 cup Canned Coconut Milk, refrigerated for 24 hours

4 tablespoons Substitute Coffee soluble

3 tablespoons of Cacao Paste (can be changed for 4.5 tablespoons of raw cacao powder)

1 teaspoon of Agar Agar

3 tablespoons of Birch xylitol
Instructions
The first thing is to crumble as much as possible the Digestive cookies, you find the recipe here*
Once they are completely shredded, join the coconut oil and mix until it has been discarded and soaked all the cookies
In the bottom of a few glasses of dessert or a mold that opens (not very large) are placed the crumbled cookies and pressed with the spoon, until forming a perfectly uniform base
Leave the base in the freezer for 20 minutes
Meanwhile, put the coconut milk in a casserole and start to heat
When it is almost boiling, reduce the heat to a minimum and add the xylitol and the coffee substitute, mixing constantly
When they have been dissolved, add a teaspoon of agar agar and continue mixing
Let it boil slowly for about 5 minutes and then add the cacao paste or cacao powder
The mixture is allowed to cool
When the mixture is cold, put it on top of the base and store the cheesecake in the refrigerator for at least 3 hours, better overnight
After 3 hours, put the coconut milk in a pastry bag and decorate the mini plates or the unique cake
Before serve, leave a few minutes outside of the refrigerator to avoid that the base is too hard; if you choose to make a cake with a mold that opens, unmold with a lot of attention
This recipe is suitable for the Fast Metabolism Diet – FMD Phase3; With these amounts, you get 3 breakfasts for >20 pounds or 4.5 breakfasts for <20 pounds.
For a complete breakfast integrate with the remaining proteins and with phase fruit and vegetables.
Notes
*Use all the cookies in the recipe - This recipe uses 1/2 cup of coconut milk as seasoning - WARNING FOR CELIAC: always check that the products that you use are certified without gluten, for who has doubts in this respect can be informed in the following link: http://bit.ly/GlutenFreeSymbol
If you liked this recipe leave me a comment and share it with your friends 🙂