The story of the Brownies is interesting: it seems that, like the Tart Tatin, they were born by a mistake, when an American baker forgot to add yeast to a sponge cake. The result was a compact and tasty cake, which is now much appreciated. A few weeks ago, Erika, an FMD colleague, asked me if I had a recipe for Brownies and, after a long reflection, today I propose this recipe, super healthy but with all the flavor of the authentic brownie.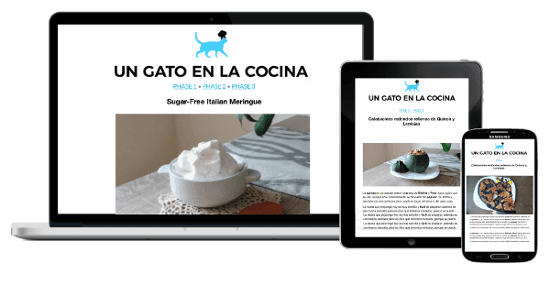 New FMD recipes every week

All my recipes are suitable for FMD!
Classic & Gluten Free Brownies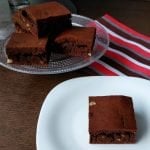 Print This
Ingredients
3 tablespoons of cacao paste or 6 tablespoon of raw cacao powder

2 eggs + 2 egg whites

9 tablespoons deodorized coconut oil

1/4 cup of chickpea flour

1/4 cup whole raw hazelnuts

1/4 cup of sorghum flour

3 tablespoon of tapioca flour

1/8 cup almond flour

6 tablespoons birch xylitol

1 pinch of salt
Instructions
Preheat the oven to  180º C (350º F).
In a ceramic bowl, undo the cacao and coconut oil and mix until homogeneous.
While the cacao and oil mixture is cooled slightly, lightly toasted the hazelnuts for 5 minutes in the oven at 180º C (350ºF).
Allow to cool completely and cut into thick pieces.
In a large bowl beat eggs, xylitol, and a pinch of salt.
When the cacao and oil composition is no longer hot, add it to the eggs and stir until homogeneous.
Add the flours and mix until the compound is homogeneous.
Add chopped hazelnuts.
Pour the compound into a square or rectangular silicone mold.
Bake for 25 minutes in a static oven.
After 25 minutes, remove from the mold to cool and cut into squares of the same dimension.
This recipe is compatible with the Fast Metabolism Diet – FMD Phase 3; With these quantities, you get 3 breakfasts for >20 pounds or 4.5 breakfasts for <20 pounds. For a full breakfast integrate with phase fruits and vegetables.
Notes
WARNING FOR CELIAC: always check that the products that you use are certified without gluten, for who has doubts in this respect can be informed in the following link: https://bit.ly/GlutenFreeSymbol
If you liked this recipe leave me a comment and share it with your friends 🙂