Today we are going to talk a little about curry. As we all know curry is a very aromatic yellow spice used in many Asian preparations; but not only that. In India, a curry is any spiced stew with sauce. It can be vegetables, meat or fish. This dish, in all its variants, is usually accompanied by boiled rice or bread, for example, the Naan.
It is a delicious dish and usually a little spicy since it is made with the famous curry paste. There are different colors: yellow, red or green, depending on the ingredients used. For this recipe, I used the green curry paste, but pay attention that is quite spicy. I have also used oat milk that can be made with this recipe. The curry version that I propose today is very easy and quick to prepare. It is a Vegan Eggplant Curry that I am sure you will love.
I await your opinions and do not forget to tell me on my Facebook page what recipes you would like me to prepare;)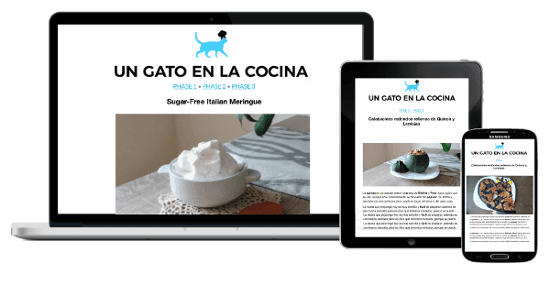 New FMD recipes every week

All my recipes are suitable for FMD!
Eggplant Vegan Curry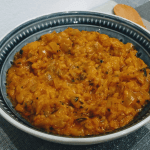 Print This
Ingredients
4 cup of aubergines

1 cup of cherry tomatoes

1 onion

2 cup of oat milk

1 clove garlic

1 teaspoon of green curry paste

1 teaspoon curry powder

½ teaspoon ground cumin

½ teaspoon of cinnamon

½ teaspoon nutmeg

½ teaspoon sweet paprika

1 teaspoon of turmeric

Fresh parsley to serve

Salt
Instructions
Wash the aubergines and dice them into medium size. Let them soak in cold water for a few minutes.

2. Wash the tomatoes and cut them into quarters.
3. Peel and chop the garlic and onion and sauté in a large nonstick skillet. Sauté over low heat for a few minutes.
4. Add eggplant, tomatoes, all spices and a pinch of salt. Mix well and cook over medium-high heat for about 8-10 minutes.
5. Add the green curry paste and stir for a minute until it softens and releases its aroma.
6. Add the oatmeal milk, cover and boil gently for 10 minutes.
7. Before serving put some fresh parsley and mix well.
This recipe is suitable for the Fast Metabolism Diet – FMD Phase1 and Phase3. With these quantities, you get 2 grains servings for <20 pounds in P1 or 4 grain servings for <20 pounds in P3. Integrate with the remaining foods.
Notes
AVISO PARA CELÍACOS: revisar siempre que los productos que uséis sean certificados sin gluten, para quien tenga dudas al respecto puede informarse en este artículo: Simbología sin gluten.