The salted cakes are a dish that is used a lot in Italy, there are all kinds of varieties and they carry the most varied ingredients. The cake that I propose today is a vegan and gluten-free cake, based on zucchini, millet, and buckwheat, perfect for eating alone accompanied by a good salad or open in half and stuffed like a sandwich. It is also an original way of eating vegetables, which children will also like.
The salted cakes are a very old dish, the old Romans used to prepare them with very bitter vegetables to eat alone or with the less noble cuts of meat. In the middle ages, they reappeared at banquets and became increasingly elaborate and sophisticated until they became true sculptures made of dough. Clearly, they were very different from those we can see today, the dough served to contain the filling and was not normally eaten; The existing salted pies did not appear until the invention of the molds.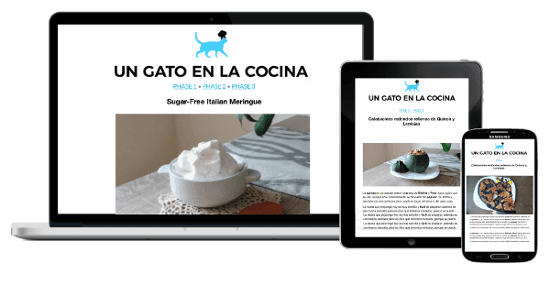 New FMD recipes every week

All my recipes are suitable for FMD!
Zucchini salty cake: vegan and gluten-free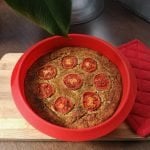 Print This
Ingredients
3/8 cup Millet Flour

3/8 cup buckwheat flour

30 gr of chickpea flour

1/4 cup oat milk*

1 very large or 2 medium zucchini

2 tomatoes

1/2 teaspoon of cream of tartar

1/2 teaspoon baking soda

Thyme

Salt
Instructions
Preheat the oven to 160º C (320º F)
Wash the zucchini and finely grate them
In another large bowl combine millet flour, buckwheat flour, cream of tartar, baking soda, salt, and thyme
Add the zucchini to the flour and mix until it is as even as possible
Although the compound will have already been moist, it is advisable to add the oat milk to make it more homogeneous
Pour the compound into a silicone mold and decorate it with a few slices of fresh tomatoes
Bake  for 1 hour
This recipe is compatible with the Fast Metabolism Diet – FMD P1; These amounts correspond to 3 servings of grains for <20 pounds, but only 1 serving of protein, or 2 servings of grains for >20 pounds but a single serving of protein.
For a full F1 lunch for <20 pounds, eat 1/3 of the salted pie + 2/3 of a portion of protein + phase vegetables + 1 cup of fruit phase.
For a full lunch of F1 for >20 pounds, you must eat 1/2 salted pie + 1/2 portion of protein + vegetables + 1 and 1/2 cup of fruit phase.
Notes
*In this recipe 1/4 cup of oat milk is used as a seasoning. -WARNING FOR CELIAC: always check that the products that you use are certified without gluten, for who has doubts in this respect can be informed in the following link: http://bit.ly/GlutenFreeSymbol
If you liked this recipe leave me a comment and share it with your friends 🙂