Egg salad is a fresh and delicious vegetarian dish, perfect to prepare at any time, especially when you are short on time. It is also a very versatile recipe, it serves as an appetizer, starter or snack; You can serve it in endive leaves, spinach rolls or accompanied by oatmeal and seed crackers.
The secret to a good egg salad is to choose some very fresh eggs, to use in the preparation of the salad and homemade mayonnaise.
Here you can see the video of how to make mayonnaise at home, and below the recipe for egg salad:
New FMD recipes every week

All my recipes are suitable for FMD!
Egg salad with homemade mayonnaise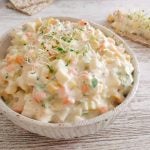 Print This
Ingredients
4 eggs

2 carrots

2 celery stalks, including the leaves

1 yellow bell pepper

1/4 of onion

4 pickled gherkins

1 handful of sprouts

6 tablespoons of homemade mayonnaise

Sea salt
Instructions
Bring a pot of water to a boil. Gently place the eggs in the pot and boil the eggs for 12 minutes.
Put the eggs in a bowl with cold water for a few minutes, to stop cooking.
Peel the eggs and cut them into small pieces.
Wash and peel the vegetables and cut them: cut the celery, onion, carrot, bell peppers and gherkins into small cubes and the celery leaves into very thin strips.
Put the cut vegetables, a handful of sprouts and the eggs in a large bowl, adjust with a little salt and add the mayonnaise. Mix well.
Decorate your salad with a little sprouts.
This recipe is compatible with the Fast Metabolism Diet – FMD Phase 3; With these quantities, you get 4 protein servings for <20 pounds, and 2 healthy fats servings for <20 pounds.