As I have been doing since the beginning of the year, this month I also share a recipe inspired by Japanese cuisine: grilled tofu with hot sauce. This recipe is straightforward and easy to prepare, perfect for vegans and that works perfectly in summer and winter.
Surprise your guests with an original dish that is prepared in a few minutes. I hope you like it ?

New FMD recipes every week

All my recipes are suitable for FMD!
Grilled tofu with hot sauce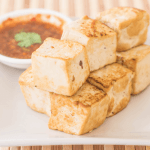 Print This
Ingredients
4 oz of tofu

1 teaspoon chopped ginger

1 clove garlic

1 teaspoon chopped onion

1 teaspoon chopped red pepper

1/4 cup of vegetable broth

1 teaspoon of tamari sauce

1 teaspoon hot pepper

1/2 teaspoon birch xylitol or stevia to taste

Salt
Instructions
Chop the ginger, garlic, red pepper and chives very finely.
In a small pot, sauté the ginger, garlic, red pepper and chives with 1 tablespoon of water.
Add the broth, the tamari sauce, the hot pepper, the xylitol or the stevia and let it boil, until it reduces a little.
Meanwhile, cut the tofu into squares and put a non-stick pan to heat.
Sauté the squares of tofu, to brown them on all sides.
Serve the hot tofu, accompanied by the hot sauce.
This recipe is suitable for the Fast Metabolism Diet – FMD P2, ONLY for vegans or ovo-lacto vegetarians. With these quantities, you get 2 snacks for <20 pounds,  or 1 main meal for <20 pounds. Remember that in the main meals the vegetables are obligatory.
For this recipe, you may need:
Notes
WARNING FOR CELIAC: always check that the products that you use are certified without gluten, for who has doubts in this respect can be informed in the following link: https://bit.ly/GlutenFreeSymbol
P.S.: Remember that, if you are doing FMD, tofu is only allowed for vegans and ovo-lacto vegetarians, in Phase 2.