The marshmallow is undoubtedly one of the most famous treats in the world and it is also very fun. It has a sweet taste like a candy but its texture is like a cloud. Today I propose my healthy and sugar-free version of this sweet, so that you can surprise your partner with a bag of handmade goodies on Valentine's Day.
Happy Valentine's Day to everyone!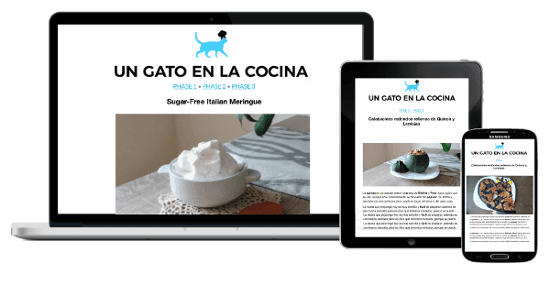 New FMD recipes every week

All my recipes are suitable for FMD!
Sugar-free Marshmallow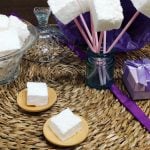 Print This
Ingredients
3 egg whites

4 tablespoons of gelatin powder (natural, grass-fed and flavorless)

1/2 cup of birch xylitol

1/2 vanilla pod

1 spoonful of arrowrot (optional)

1 cup of water

1 teaspoon cream of tartar

1 pinch of salt
Instructions
Process the xylitol with the blender for a few minutes to make it like a powder.
In a large bowl, start to mount the whites to snow. Add the cream of tartar and little by little the crushed xylitol. Keep beating until you get perfectly mounted whites.
With a knife cut the vanilla bean and remove the seeds, add the seeds to the whites and beat more pair to impregnate them.
Mix the gelatin with 1 cup of boiling water and mix well. The gelatin has to get rid of completely. Add 1 pinch of salt.
Beat the whites again and slowly add 1 teaspoon of water with gelatin. Attention not to disassemble the whites. Continue until you finish the water. There must be a white, shiny and sparkling compound.
Optional: Sprinkle the base of a silicone mold with 1/2 spoonful of arrowroot.
Pour the compound into a silicone mold (or another mold lined with baking paper) and level it with a spatula.
Optional: sprinkle the surface with the remaining arrowroot.
Leave in the refrigerator at least 2 hours.
Demolish carefully and cut into squares.
This recipe is compatible with the Fast Metabolism Diet – FMD Phase 2; With these quantities, you got 4 protein servings for P2 snack for <20 pounds.
Notes
WARNING FOR CELIAC: always check that the products that you use are certified without gluten, for who has doubts in this respect can be informed in the following link: http://bit.ly/GlutenFreeSymbology