Although it seems impossible, tomorrow will be the new year's eve, so today's recipe is the last recipe of 2018.
If you remember, this year I started with my Ramen low carb recipe and with my purpose of publishing a recipe inspired by Japanese cuisine every month, so it seemed nice to close the year with the latest Japanese recipe: tuna tataki with black sesame. It is a simple recipe, easy to prepare and perfect for holidays, to impress your guests.
This year has been great for me, I have had the opportunity to grow and learn a lot, I have seen far away places, I have experimented with new ingredients and techniques, and above all, thanks to all of you, I have felt that I am contributing something positive with my work in the kitchen. I want to thank all the people who follow me, who read my recipes, who write to me and ask me, all your support makes me keep creating recipes, contents, and tools so that healthy eating is easier and more fun.
Thank you all, with all your heart and happy 2019!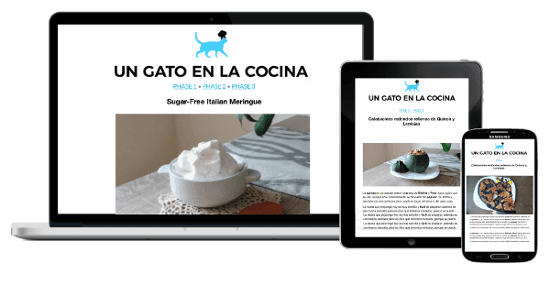 New FMD recipes every week

All my recipes are suitable for FMD!
Tuna tataki with black sesame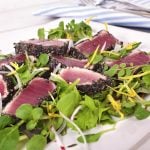 Print This
Ingredients
170 gr of tuna loin

1 tablespoon of sesame oil - sesame

8 teaspoons of black sesame - ajonjilí

2 tablespoons of tamari sauce

1 tablespoon of apple cider vinegar

1 teaspoon ginger powder

2 cup of green mixed lettuce and sprouts

2 radishes

2 baby carrots

Lemon

Salt
Instructions
Cut the tuna into a cylinder and marinate it with a mixture of tamari sauce, vinegar, and powdered ginger. Leave it in the fridge for 1 hour, turning it from time to time.
After 1 hour, put the sesame on a plate and put the tuna on top, as if to bread it.
In a hot pan, put the sesame oil and put the tuna. Cook for less than a minute per side.
Meanwhile, wash and cut the lettuce and grate the carrots and radishes.
Remove the tuna from the pan and cut it with a sharp knife.
Dress the salad with lemon and serve with the tuna tataki.
This recipe is suitable for Fast Metabolism Diet Phase 3 – FMD P3. With these quantities, you get 1 protein serving, 1 healthy fat serving and 1 veggie serving for <20 pounds.