Today I propose a perfect recipe to give a touch of flavor to vegetables, meat or even pasta. It is a very simple and fast red pepper sauce, raw and veganto prepare. The mixture of ingredients, makes this sauce an original and creative option to dress vegetables in the oven or accompany all kinds of meat.
This sauce is a good choice also for pasta dressing in Phase 2, both the shiritaki (pasta of konjak) and the pasta of edamame * (only for vegans).
I wait for your opinions 😉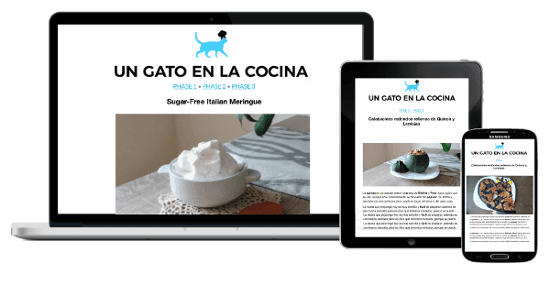 New FMD recipes every week

All my recipes are suitable for FMD!
Red pepper sauce, raw and vegan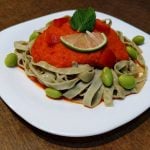 Print This
Ingredients
1 red pepper

1/4 celery stalk

1/2 onion (1 shallot in P2)

1/2 lime juice

1 clove garlic

3 or 4 fresh mint leaves

6 or 7 fresh parsley leaves

Grated lime zest

1 or 2 water spoons

1 pinch of salt
Instructions
Wash and chop the pepper and celery
Remove the germ to the garlic clove
Peel and finely chop shallot and garlic
Chop finely parsley and mint
Combine all ingredients and beat until smooth.
Serve this sauce with vegetables, meat, or pasta *
This recipe is compatible with the Fast Metabolism Diet – FMD Phase 1, Phase 2 and Phase 3; You can eat at any time of the day: it only contains vegetables.
Notes
* In the photo you can see this sauce served with edamame pasta and accompanied by cooked edamame. Edamame is only allowed for vegans and only in Phase 2.