Chicken with curry is one of my favorite dishes, since I remember I've always loved it. It is part of the tradition of many different cultures, from China to India. It is a tasty dish and easy to prepare, although it has numerous variations. The recipe that I present today is my personal P2 version. Who says that in Phase 2 you have to give up flavor?
I hope you like this recipe as much as I do 🙂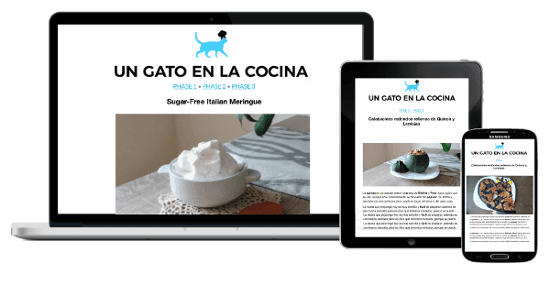 New FMD recipes every week

All my recipes are suitable for FMD!
Chicken with curry and garlic chips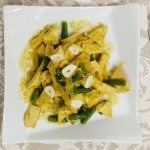 Print This
Ingredients
120 gr of chicken breast (can also be used turkey)

1 shallot (1/2 onion in P3)

2 cloves of garlic

1 cup of green beans

1 teaspoon curry powder

Chicken broth

White pepper

Salt
Instructions
Preheat the oven to 320º F (160º C)
Finely chop the shallot and put it in a non-stick pan with a tablespoon or two of broth
Let sauté over low heat the shallot, meanwhile wash and cut the green beans into pieces of approximately 1.5 cm
Cut the chicken (or turkey) into pieces of 1 or 2 cm
When the shallot is perfectly transparent, combine the chicken and the green beans
In a glass, mix 4 or 5 tablespoons of broth with the curry and add it to the chicken
Add salt and white pepper and cook a few minutes
Meanwhile, peel and cut the garlic into very thin slices
Put the garlic on a baking sheet lined with baking paper and bake for about 5 or 10 minutes (the chips should be crispy but not pick up much color or will have a bitter taste)
Serve the chicken with its sauce and the garlic chips (Tip: don't let the chips touch the sauce or will soften)
This recipe is suitable for the Fast Metabolism Diet – DMA Phase 2; With these quantities, you get 1 meal for <20 pounds, add vegetables.