Today I want to share a perfect recipe for those days when we have many things to do and little time at our disposal. It is an easy and quick recipe to make an excellent full breakfast. I made this smoothie with alkaline vegetables, which are excellent for our body, egg whites powder, which is the source of protein, and spices such as cacao and cinnamon that give us the energy to start the day, an amazing flavor and many other benefits. I hope you like it 😉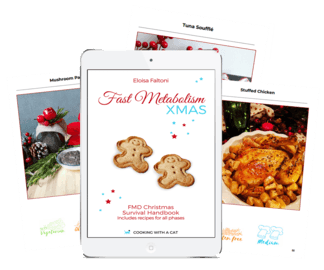 Second Edition
Download the e-book
Until December 8th you'll have a 50% discount
Green Smoothie with cacao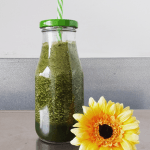 Print This
Ingredients
1 cup baby spinach

1 cup of kale

3 egg whites powder (look at the amount in the package) or 3 egg whites

1 1/2 cup of water

1 tablespoon of raw cacao

1 teaspoon of cinnamon

2 tablespoons of birch xylitol or stevia to taste
Instructions
Wash the spinach and kale thoroughly and remove the stems.
Put all the ingredients in the blender and process until you obtain a homogeneous consistency. If it is too dense you can add a little water and beat again.
This recipe is suitable for the Fast Metabolism Diet – DMA Phase 1, 2 and 3; With these quantities, you get 1 full P2 breakfast or 2 full P2 snacks for <20 pounds.
For this recipe, you may need:
 
Notes
WARNING FOR CELIAC: always check that the products that you use are certified without gluten, for who has doubts in this respect can be informed in the following link: https://bit.ly/GlutenFreeSymbol