Although I like a lot the fresh fruit, sometimes it can be a little to eat it. For this reason I like to think of ingenious and original ways to give it a different touch.
The recipe that I propose to you today, is very easy to prepare and only requires few ingredients. It is a jelly fruit, prepared with agar agar, so that it is 100% vegan. I have chosen peach and raspberry, but it can be made with any other fruit, just free your imagination 🙂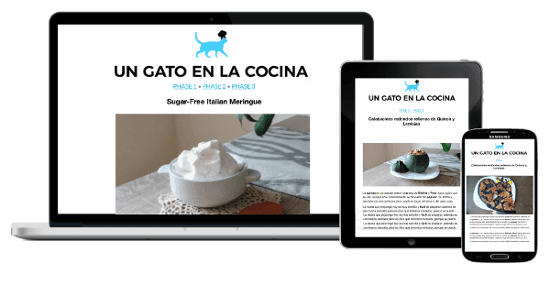 New FMD recipes every week

All my recipes are suitable for FMD!
Vegan Bicolor Jelly
Print This
Ingredients
1 cup peach

1/2 cup raspberries

1 1/2 teaspoons agar agar powder

1/2 lemon

3/4 cup water

1/2 tablespoon of birch xylitol or stevia to taste (optional)
Instructions
Wash and puree the raspberries with a blender
[OPTIONAL] With a fine strainer, strain the raspberry puree to remove all seeds. This process may require time, but it is entirely optional.
In a casserole, heat 1/4 cup water and add 1/2 teaspoon agar agar and xylitol (optional)
When the water is boiling, remove it from the heat and add it to the raspberry puree
Mix well and place the puree in a glass
Save the puree in the refrigerator for at least an hour; if the inclined shape is desired, incline the glass
After 1 hour, peel, chop and beat the peach with the lemon juice until turning into a creamy puree
In a casserole, heat 1/2 cup of water and add 1 teaspoon of agar agar
When the water is boiling, remove it from the heat and add it to the peach puree
Mix well and place the puree in the glass, on top of the raspberry puree
Leave in the refrigerator three hours more
This recipe is suitable for the Fast Metabolism Diet – FMD Phase 1 and Phase 3; With the quantities of this recipe, you got 1 serving of fruit for >20 pounds. You can eat this recipe instead of fruit, in every meal or snack where the fruit is allowed.
For this recipe, you may need: