We are already in September, so it is time for a new Japanese recipe. Today's recipe is a straightforward recipe and easy to prepare, one of the most iconic dishes of Japanese cuisine: the sushi chirashi.
The chirashi is also called "scattered sushi," in a few words it is sushi in a bowl; the base is rice and usually carries vegetables, seaweed, and fish. This is without doubt one of my favorite recipes, the version I propose is with wild rice and fresh salmon, but I recommend you try it with tuna or prawns. Along with the salmon I used radishes, cucumbers, and seaweed which are the most common vegetables in this type of preparation but added my personal touch with a handful of radish sprouts. You can prepare this recipe also with other sprouts or a little rocket.
Accompany it with a little sunomono for a perfect Japanese dinner.
I hope you like it 🙂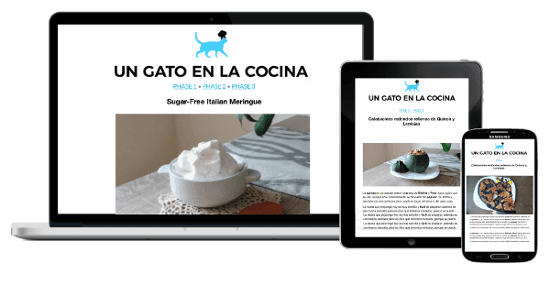 New FMD recipes every week

All my recipes are suitable for FMD!
Chirashi sushi bol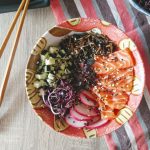 Print This
Ingredients
1/6 cup of raw wild rice

170 gr of fresh salmon

1/2 cucumber

3 radishes

1 handful of sprouts (leeks, alfalfa ...)

1 teaspoon mixed chopped seaweed (wakame, nori ...)

2 tablespoons of sesame oil

2 teaspoons of raw white sesame

2 teaspoons of raw black sesame

1 tablespoon of apple cider vinegar

1/2 teaspoon birch xylitol or stevia to taste

Tamari sauce

Wasabi

Gari (pickled ginger)

Salt
Instructions
Cook over medium-low heat the wild rice in 2 parts of water for one of rice, covered, for about 40 minutes or according to the time indicated on the package.
In a bowl, mix the vinegar and the sweetener
When the rice has absorbed all the water and is perfectly cooked, put it on a plate and dress with the vinegar mixture. Mix well and let cool.
Wash all vegetables well. Cut the radishes into thin slices and the cucumber into small squares.
Cut the fresh salmon into an elongated strip and cut several slices of the same size and thickness.
Place the rice in the base of a bowl and place the vegetables in the middle of the bowl. Dress the vegetables with the sesame oil and a little salt.
Place the cut salmon on the other half of the bowl.
Garnish with chopped seaweed and black and white sesame.
Serve with tamari sauce, wasabi, and gari.
This recipe is suitable for the Fast Metabolism Diet – FMD Phase3; With these amounts, you get 1 protein serving, 1 grain serving and 1 healthy fat serving, for <20 pounds.
For this recipe, you may need: