The clafoutis is a typical French cake very creamy, is made with whole cherries (yes, with bone and everything) and a liquid mass, similar to that of the crepes. It is a dessert originally from Lemosín, but spread rapidly throughout the country. Although the original clafoutis is prepared with cherries, there are many variants with other fruits, each of a different region and each with a different name.
The version I propose today is vegan and gluten free but retains all the charm of the traditional recipe; It is also very useful when reusing the remains that remain when preparing homemade oat milk.
Let's see what you think!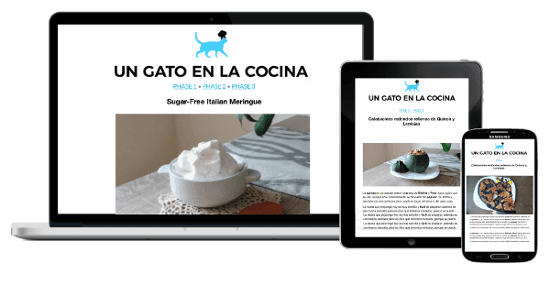 New FMD recipes every week

All my recipes are suitable for FMD!
Clafoutis vegano de cerezas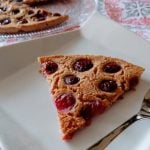 Print This
Ingredients
3 cup of whole cherries

3/8 cup of oat flour

3/4 cup of oat flakes or the remains of oat milk

3 tablespoons of chickpea flour

1/2 cup oat milk *

3 tablespoons birch xylitol

Lemon zest
Instructions
Preheat the oven to 180º C (350º F)
In a large bowl, mix the oat flour with the xylitol and lemon zest and mix well
In a small bowl prepare a vegan egg by mixing 3 tablespoons of chickpea flour with 3 of water
Beat the oat flakes with 1/4 cup of boiling water, to obtain a moist porridge; This passage can be skipped if you use the remains of the oat milk
Add the vegan egg, moist porridge (or milk remains) and oat milk to the flour mixture and mix well
Wash the cherries and put them whole in the bottom of a silicone mold
Pour all the compound on the cherries; it is not necessary that they are completely covered
Bake in a ventilated oven for 40 minutes
This recipe is suitable for the Fast Metabolism Diet – FMD Phase1 and Phase 3;
Phase 1: With these quantities, you get 3 full breakfasts for <20 pounds or 2 full breakfasts for >20 pounds.

Phase 3: With these quantities, you get 6 servings of grains and 3 of fruits for <20 pounds or 4 servings of grains and 2 of fruit for >20 pounds. It also contains less than one serving of protein. For a full breakfast add the remaining fruit and protein and healthy fats and phase vegetables.
Notes
*In this recipes you use 1/2 cup of oat milk like condiment. - WARNING FOR CELIAC: always check that the products that you use are certified without gluten, for who has doubts in this respect can be informed in the following link: http://bit.ly/GlutenFreeSymbol