Tabbouleh (or tabulé) is a recipe of Lebanese and Syrian origin, very fresh and light, for this reason is the perfect food for the summer. It is a cold salad based on Bulgur and fresh vegetables; To adapt it to the FMD, I decided to change the Bulgur by whole spelt cous cous and the result is great.
Personally, I am very fan of this recipe, because apart from being delicious is also very quick to prepare. It is a perfect first course for Phase 1.
I hope you like it 🙂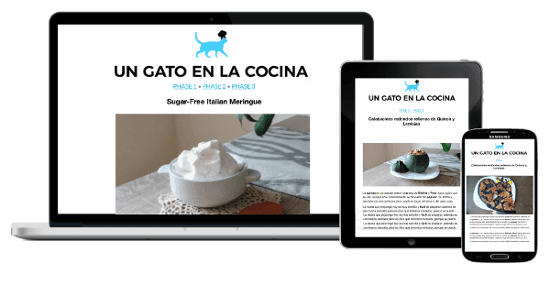 New FMD recipes every week

All my recipes are suitable for FMD!
Whole Spelt Tabbouleh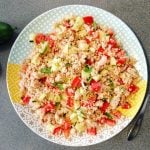 Print This
Ingredients
1 cup of cooked whole spelt cous cous*

1/4 cucumber

1/4 onion

1/2 pepper

1 cup of tomatoes

Fresh mint

Fresh basil

Lemon juice

Salt
Instructions
Cook the spelt cous cous according to the package instructions
When it is ready, stir with a fork so it does not stick
Wash the vegetables, peel the cucumber, and cut all vegetables diced
Cut the mint and basil into small pieces
Mix the cous cous, the vegetables and the fresh spices in a bowl
Garnish with lemon juice and salt to taste
This recipe is suitable for the Fast Metabolism Diet – FMD Phase1. With these quantities, you get 1 grain serving for <20 pounds.
For a complete lunch, add more veggies, protein and fruit.
For a complete dinner, add more veggies and protein.
Notes
* If you want to eat tabbouleh in Phase 3, you can prepare it with 1/2 cup of cooked quinoa instead of cous cous. ONLY for dinner.