Breakfast is my favorite meal, although it hasn't always been that way. It took me a while to get used to having breakfast in the morning, and one of the things that have helped me the most has been preparing sweet and healthy recipes.
These cocoa and pear pancakes, for example, are a real vice.
It is one of my favorite breakfasts because it is delicious and delicate as a dessert, it is prepared in just 10 minutes, and it is vegetarian and gluten-free, which is perfect for everyone.
To prepare this wonder, you only need a few easy-to-find ingredients and a good non-stick pan.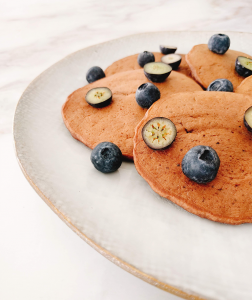 Customize your pancakes
I usually eat these pancakes with blueberries on top, but you can give them your personal touch by choosing the fruit you prefer. Raspberries, kiwis, cherries, strawberries, mango, and even tangerines look great. Go ahead and try new combinations.
New FMD recipes every week

All my recipes are suitable for FMD!
Chocolate pancake with pears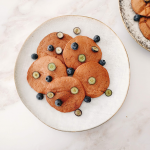 Print This
Ingredients
3/4 cup of oat flour or buckwheat flour

2 pears

6 egg whites

2 tablespoons raw cacao powder

3 tablespoons birch xylitol or stevia to taste

1/2 teaspoon of baking soda

1/2 teaspoon cream of tartar

Topping:

2/3 cup blueberries for <20 pounds, or 1 cup for >20 pounds
Instructions
Peel the pears, chop them and grind them with the blender until obtaining a puree.
In a large bowl, add the egg whites and flour and mix well.
When you have a homogeneous mixture, add the pear puree, the cocoa, the sweetener, the bicarbonate, and the tartar cream. Mix well until the ingredients are incorporated, and you get a smooth dough.
Heat a nonstick skillet. When it's hot, lower the heat a little, pour two tablespoons of the mixture into the pan, and form a round pancake. Let the pancake cook for a few minutes.
When several bubbles have formed on the surface, turn it over with a spatula and cook for a couple more minutes.
Repeat the process until the mixture is finished.
Serve your pancakes with the blueberries on top.
This recipe is compatible with the Fast Metabolism Diet – FMD Phase 1; With these quantities, you get 3 breakfast for <20 pounds or 2 breakfast for >20 pounds.
I hope you like this recipe!
If you try it, I encourage you to share the photo below in the comments or social networks: Instagram and Facebook.
I love seeing your creations.
Eloisa ❤