At the beginning of the year, I promised to prepare some of the recipes that you proposed, so after a survey on my Facebook page, we have a winning recipe: the cheesecake, probably one of the most popular desserts in the world.
The cheesecake has an origin older than we think, in fact already in Ancient Greece there were sweet cakes based on cheese. Over time this recipe has evolved and changed in each country until in the nineteenth century, it crossed the Atlantic. Around the year 1872, a cheesemaker from Philadelphia tried to create a soft cheese, ideal for this type of preparations, and thus the famous Philadelphia cheese was born, indispensable for the cheesecake. But it was only in the twentieth century when the New York cheesecake was born as we know it today, created by Arnold Reuben.
The version that I propose today is a vegan and gluten-free version, prepared with nuts and oats. Despite not containing diary-cheese it has the original cheesecake texture and is really delicious.
Try it also with this jam of rhubarb and ginger.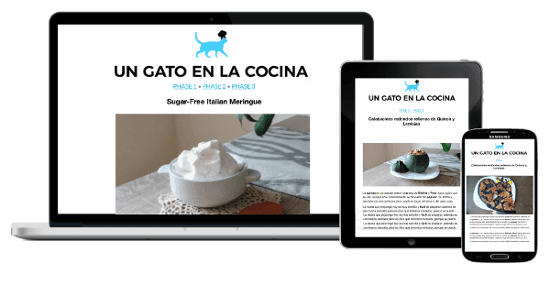 New FMD recipes every week

All my recipes are suitable for FMD!
New York Cheesecake, vegan and gluten-free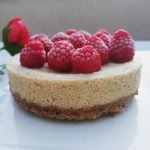 Print This
Ingredients
For the base:

1/2 cup of raw old fashioned oats

1/8 cup of raw almonds

1½ tablespoons of coconut oil

2 tablespoons of birch xylitol or Stevia to taste *

1 pinch of salt

Cloves powder to taste

For the filling:

1/2 cup of cashew nuts (cashews) raw

1/4 cup of coconut milk in cardboard **

3 tablespoons of sunflower oil

1 tablespoon tapioca starch or arrowroot

3 tablespoons of birch xylitol or Stevia to taste *

2 tablespoons of lemon juice

Topping:

1 cup of raspberries or other F3 fruit

Rhubarb and ginger jam
Instructions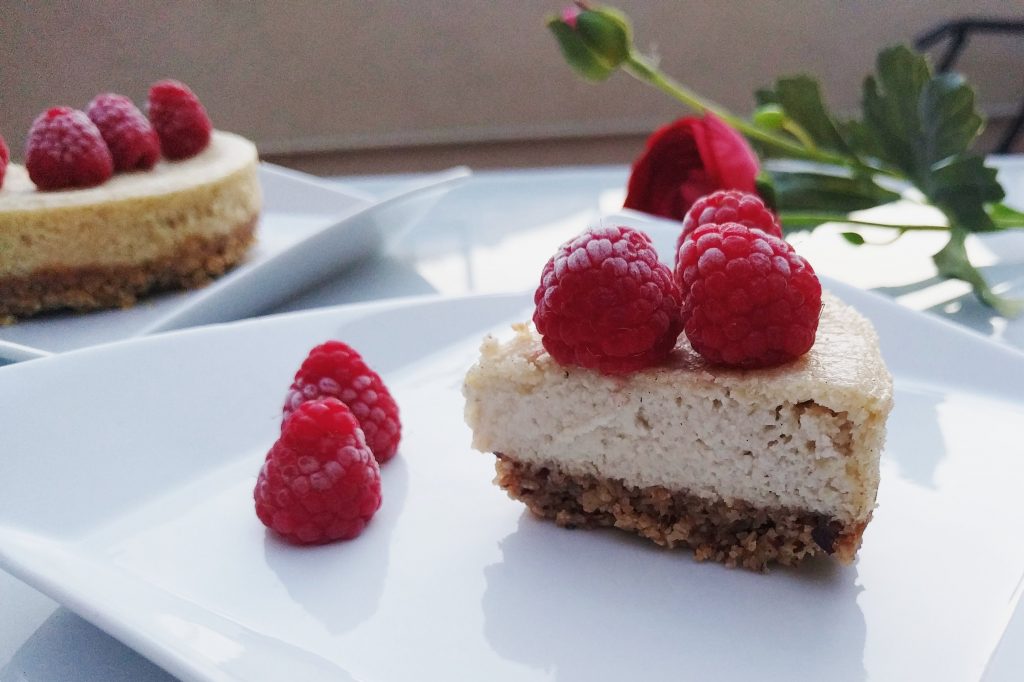 Put cashews (cashews) in a bowl and let them soak in cold water overnight
Preheat the oven to 350ºF (180ºC).
Put all the ingredients to make the base in a processor and crush them until there is a homogeneous mass.
Line a mold with baking paper and distribute the dough at the bottom of the mold and level with a spoon.
Bake the base for 15 minutes. Take it out of the oven.
Meanwhile, make the filling: put in a processor the cashews soaked all night, coconut milk and sunflower oil and crush until a smooth and homogeneous cream. It may take a few minutes.
Add the xylitol or stevia, and one tablespoon of lemon juice beat again. Add the second spoonful of lemon juice and beat again.
Add the sifted tapioca flour and beat again until it is fully incorporated.
Pour the cashew preparation into the mold and bake for 30/40 minutes at 320ºF (160ºC).
Wait for it to cool and put in the fridge. Unmold only when completely cold and serve with raspberries for breakfast or rhubarb and ginger jam for dinner.
This recipe is compatible with the Fast Metabolism Diet – FMD Phase 3; With these quantities, you got 4 healthy fat servings for <20 pounds but ONLY 2 grain serving for <20 pounds.
Notes
* I do not write an exact amount of stevia because there is usually much difference between one brand and another, some sweeten more and others less. ** This recipe uses 1/4 cup of coconut milk as a condiment. - WARNING FOR CELIAC: always check that the products that you use are certified without gluten, for who has doubts in this respect can be informed in the following link: https://bit.ly/GlutenFreeSymbology