Breakfast is the most important meal of the day but sometimes it costs a little to eat in the morning so today I propose an easy and sweet recipe that, thanks to its ingredients, is perfect for the morning.
The perfect way to start the day!
New FMD recipes every week

All my recipes are suitable for FMD!
Apple, carrot and oat cake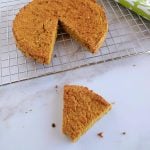 Print This
Ingredients
3 apples

1 carrot

1 1/2 cup of oats (old fashioned or steel cut)

2 tablespoons birch xylitol

1/2 taespoon of Baking soda

Lemon juice
Instructions
Preheat the oven at 350º F (180ºC)
Grind the oats, until they are rolled into flour
Peel, chop and mash the apples and the carrot, until reduced in puree
Add the xyliotol and the oatmeal to the puree and mix until creating a damp and homogeneous dough
Put the dough in a mold of silicone
Bake for 40 minutes
This recipe is suitable for the Fast Metabolism Diet – FMD Phase1. With these quantities, you get 3 full breakfasts for <20 pounds or 2 full breakfasts for >20 pounds.
Notes
WARNING FOR CELIAC: always check that the products that you use are certified without gluten, for who has doubts in this respect can be informed in the following link: http://bit.ly/GlutenFreeSymbol