The pannacotta is a fresh dessert typical of the Italian tradition. This is my recipe to make a vegan and lighter version of this delicious dessert. To prepare it you only need oat milk, vanilla, a thickener, agar agar and your favorite natural sweetener.
Try this recipe also at breakfast!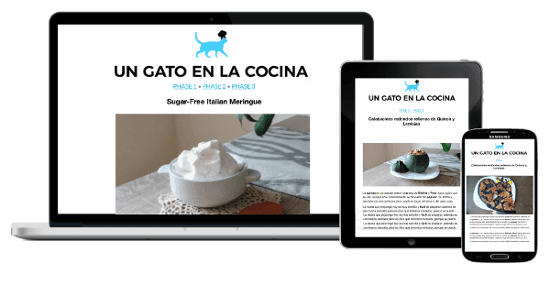 New FMD recipes every week

All my recipes are suitable for FMD!
Oat pannacotta with strawberries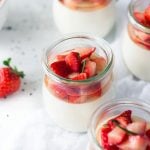 Print This
Ingredients
For pannacotta:

2 cup of oat milk

2 tablespoons of arrowroot powder or tapioca flour

1/2 vanilla bean or natural vanilla extract

1 teaspoon of powder agar agar

3 tablespoons of birch xylitol or stevia to taste

For topping:

2 cup of strawberries (strawberries)

1/2 lemon

2 tablespoons of birch xylitol or stevia to taste
Instructions
Cut the vanilla pod along, and with the knife blade take out all the seeds.
In a pot, put the oat milk, the sweetener, the vanilla seeds, the pod, the arrowroot, and the agar agar.
Put the pot over low heat and continuously stir until it breaks to boil.
Let boil a couple of minutes (without mixing) and remove from heat.
Remove the vanilla pod and distribute the milk in bowls, cups or glasses. Let cool and put in the refrigerator, at least two hours.
Meanwhile, wash the strawberries thoroughly and cut them into small pieces.
In a large bowl, mix the strawberries well with the sweetener and the juice of half a lemon.
Cover and let stand in the fridge.
When the pannacotta is dense, cover with the strawberries and serve cold.
This recipe is suitable for the Fast Metabolism Diet – FMD Phase 1. With these amounts, you get 2 servings of grains and 2 servings of fruit for <20 pounds.
For this recipe, you may need: