November is over; it's time to start thinking about the holidays. In my family, it is tradition to make the Christmas tree and decorate the house on December 8, but it is clear that it can not be done without a small snack that energizes us and makes us think about the holidays. As always, eating something sweet does not exclude that it is healthy, for this reason, today I propose a recipe for gluten-free cupcakes and a sweet ganache of chocolate and coconut milk. To make the ganache you can use black chocolate sweetened with stevia, my vegan chocolate or slightly raw cacao powder.
This ganache can also be used in other recipes, for example, to fill this Roscón de Reyes without gluten.
New FMD recipes every week

All my recipes are suitable for FMD!
Amaranth cupcakes with coconut and chocolate ganache, gluten free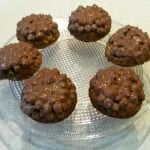 Print This
Ingredients
100 gr of amaranth flour

50 gr of brown rice flour

75 gr of birch xylitol (+ 1 tbsp)

40 gr of sunflower oil

1 egg

90 ml oat milk

1 teaspoon cream of tartar

1/2 teaspoon baking soda

20 gr cacao nibs

1/2 orange skin

1 pinch of salt

For the ganache:

1 Can of coconut milk, refrigerated at least 24 hours

60 gr of chocolate endowed with stevia or

60 gr of my vegan chocolate or

6 tablespoons of raw cacao powder + 6 tablespoons of coconut oil
Instructions
In a bowl, mix the two flours with the cream of tartar, the bicarbonate and one pinch of salt
In another bowl, beat the egg, 75 g of birch sugar, oat milk and oil, until a homogeneous compound is obtained
Join the liquid mixture to the flours and mix until a uniform dough is obtained
Join the cacao nibs to the dough and mix well
Grate the skin of 1/2 orange and join it to the dough and mix well
Arrange the dough in the cupcake molds (6 or 8 depending on how large they are); Fill the molds by 2/3
Bake for 15/20 minutes at 160º in a ventilated oven; do the stick test to check that they are ready
While preparing the ganache: melt the 60 gr of chocolate with stevia or 60 gr of my vegan chocolate 
When chocolate is melt, remove from the heat and add the dense part of the canned coconut milk and a spoonful of xylitol. Beat until forming a homogeneous and thick ganache; Reserve the ganache in the fridge
This ganache can also be made by mixing coconut milk with 6 tablespoons of raw cacao powder and 6 tablespoons of coconut oil undone. Reserve a few minutes in the fridge so that it thickens a little
Before serving the cupcakes, put the ganache in a pastry bag and decorate them
This recipe is suitable for the Fast Metabolism Diet – FMD Phase 4.
Notes
WARNING FOR CELIAC: always check that the products that you use are certified without gluten, for who has doubts in this respect can be informed in the following link: http://bit.ly/GlutenFreeSymbol